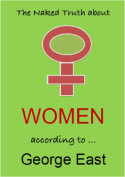 George's latest work is now available in e-book form, and is likely to cause a bit of a stir.
The Naked Truth about Women is George's attempt to get to grips with understanding the female mind, something which, as Donella says, has eluded him all his life.
The book is intended primarily for a male readership, but I think it will be of interest to we ladies to see how a man thinks our minds work.
Not in revenge but merely in the interests of balance, Donella is working on our next publication, which will be called The Naked Truth about ... Men.
Although she says she has more than enough material accumulated over all those years with George, she is looking for contributions from other women. Quite simply, she wants to know what irritates you most about men. Just drop her a line with your pet peeves to donellaeast@btinternet.com She has already had hundreds of responses, and one thing is sure she says, the book about the trouble with Men will be much, much thicker than the one about Women!
More available through our website at www.george-east.net The link will take you to Amazon.co.uk where you will find it is on a special launch offer of a mere 99 pence.
By:
Francesca Brooks for la Puce publications