Scrumpy Bob's new column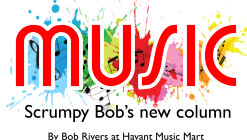 MUSIC - Not just Rock 'n' Roll
Musician/singer/song writer Stevie Wonder said of Chuck Berry who died aged 90 in March '17, "There's only one true King of Rock 'n' Roll, his name is Chuck Berry." Many will say Bill Haley, Elvis Presley, Jerry Lee Lewis the list is endless...
Rock 'n' Roll was a big influence on modern and popular music, but there is and has been music since man hit the rhythm sticks!! Dame Vera Lynn turned 100 in March '17 stating "Be active to your full capabilities" for an active and long life. Music was a major part of her life, and her voice has given thousands of people pleasure, hope and happiness.
Over the past 10 years the ukulele has become a very popular instrument, introducing thousands of people of all ages to playing an instrument, singing and strumming either in a group or on their own. It's a fun instrument now being taught in many schools.
To be effective in playing any instrument you need to give it time, practice, a leaning time that thousands of people have found fun. Playing or listening, seeing live music or playing it, music is good for a better and more fulfilling life, go on give it a go... Keep music live, support your local venues and musicians, don't lose one of the best gifts in life!