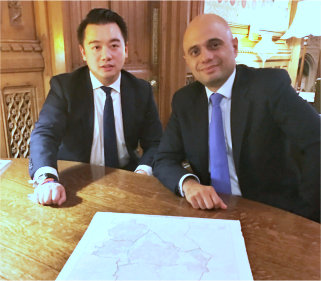 Havant MP Alan Mak has lobbied a senior Cabinet minister to ensure funds for infrastructure are made available to areas in south Hampshire and across the country where new housing is planned.
Mr Mak was responding to queries raised by a group of residents during the consultation phase of Havant Borough Council's Local Plan that existing infrastructure may need to be upgraded to take account of additional housing over the next 20 years. The Local Plan sets out plans for new housing in the Borough between now and 2036.
Mr Javid responded by saying MPs like Alan Mak had made strong representations to him and the Chancellor on housing-related infrastructure, and that he was aware of Hayling Island's characteristics. The Cabinet Minister said the Autumn Statement saw the Government announce new funds which local councils such as Havant Borough Council and Hampshire County Council can bid for. These include a £2billion fund to support new housing infrastructure, £23billion for a new National Productivity Infrastructure Fund, some of which will go towards housing and infrastructure, and as part of that fund, £1.1billion is set aside to deliver upgrades on local roads and the public transport network. Mr Mak said he was committed to supporting local councils and other bodies like Solent LEP if they apply for national funds where local resources for infrastructure are not sufficient.