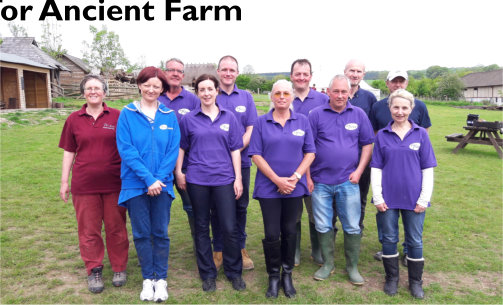 On a lovely spring day in May, beautiful rolling hills and countryside were the stunning backdrop for a group of 10 willing volunteers to undertake a variety of tasks at Butser Ancient Farm.
Volunteers from Pfizer a large business based in Havant, took time out of their working day to help out at the archaeological site. One group worked tirelessly loading and carrying wheelbarrows full of flint used for carving from one end of the site to the other. The other group had the task of sorting a large pile of Roman tesserae.
Pfizer take part in monthly volunteering events around the Havant area organised by Community First, which have included conservation, gardening, decorating and helping out at a food bank.
Pfizer volunteer Andrew said "It's been a great day out of the office in the countryside, with a diverse group working together with great team spirit. It's been hard work but great to see the fruits of our labour and very rewarding to see the difference we have made. it's fantastic to see groups of school children visiting today enjoying the living history that has been created here."
Butser's Director Maureen Page said "we are delighted to welcome Pfizer here for a day of volunteering. This enables us to achieve what we normally wouldn't be able to do. Today they have helped us to clear an area ready for our Roman garden. They have helped to move flint and sort tesserae for a mosaic project planned for later this year. They are a lovely group who worked efficiently together and we hope they enjoyed their day."
Sue Webber from the Butser staff, led the volunteers and really enjoyed working with the team "I think this is a great opportunity for people to get out of the workplace, visit somewhere new and work together. A huge thank you to the Pfizer team."
Without the support of local businesses many charity and community groups would struggle. For more information about how you can get involved with the employee volunteering scheme contact Rachel Taylor at rachel.taylor@cfirst.org.uk or telephone 0300 500 8085 ext 9724