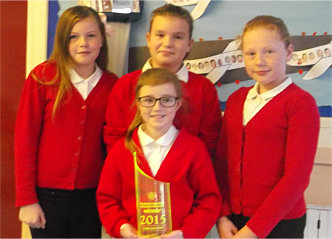 Four of our Upper School girls attended Portsmouth High School's Technology Challenge Day. The Year 5 and 6 girls were challenged to design, build and test a sustainable transport system which involved them in thinking, planning, constructing and presenting on the day.
Two judges, Andrew Webb, a, local consultant with experience in energy, engineering and technical projects and Dr Rinat Khusainov, a lecturer, from the University of Portsmouth's School of Engineering formed the panel.
"Mengham had an excellent presentation and a superb model" said Dr Khusainov. "They considered lots of factors including aerodynamics and safety features well beyond the initial brief."
Mr Graeme Field, Assistant Head and Head of Design and Technology at Portsmouth High School said:
'This is a fabulous opportunity for Year 5 and 6 girls from local junior schools to compete together to solve a real life challenge. They were set a really difficult task to design the monorail train but also to think about how their rail company would be promoted.'
We are over the moon that our team won out of the other nine schools that they competed against! Well done girls!