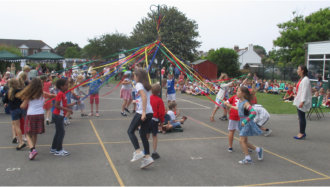 Mengham Junior Celebrated The Queen's Birthday on Friday June 10th.
With the sun shining, the staff and pupils of Mengham Junior School welcomed parents, governors, the Mayor of Havant and members of the local community to their Tea Party and mini summer fayre to honour Queen Elizabeth's 90th birthday.
The pupils put on an amazing performance of diary recitals, songs and maypole dancing, our parent volunteers ran stalls and the staff served sandwiches and cakes fit for a queen!
The Great Mengham Bake Off was also a huge success. We were overwhelmed by the number of wonderful cakes that the children entered and Marilyn Skennerton of the Hayling Lions Club had the really tough job of choosing 3 winners.
A big well done to Phoebe and Jack Hammond, Kai Wellbelove and Monty Cashford who were the final winners.