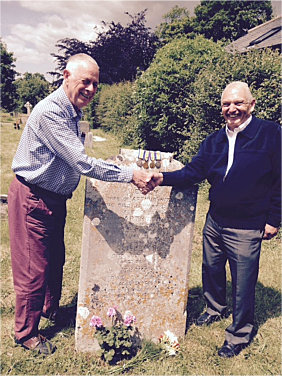 I was sifting through my late father's effects and found a "Queen Mary" box containing several sets of medals. I readily identified sets of medals that were my father's grandfather and uncle, but there were also a set of First World War medals in the names of Frederick and Thomas Witten who I could not identify as members of my family.
Why were they in the box? This mystery started my quest to repatriate them to their rightful family.
I knew that my Grandfather and Uncle lived in the Bramber and Upper Beeding area in Sussex, so I concentrated on that location and found The Beeding and Bramber Local History Society. They were in the throes of researching First World War soldiers of that area and very helpful; they soon provided me with the missing information. My Uncle's wife maiden name was Witten and the two sets of medals were her brothers Frederick and Thomas. The brothers both died within 10 days of each other during the Battle of the Somme in 1916.
No immediate relatives could be found so they arranged for a local newspaper to run a story in the hope that this could provide a lead or two. I continued to trace any "Wittens" living in the Shoreham and Worthing areas using local telephone directories and bingo! I found a second cousin once removed, who could remember visiting my aunt and uncle's home in Upper Beeding. In fact we shared the same memories of visits to their home so I knew he was genuine.
Arrangements were made to meet in Bramber and the handover of the medals were effected at Upper Beeding churchyard where the two brothers are remembered on their parents headstone.