Celebrating 10 Years of Crafting Success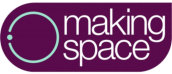 Craft charity Making Space has worked with over 25,000 people since it was opened by the Princess Royal 10 years ago. During that time its range of workshops, classes, talks and demonstrations have allowed adults and children from all backgrounds to take part in hand making and enjoy high quality creative craft and design experiences.
Now the organisation is celebrating its 10th anniversary with a year-long programme of events and activities starting in May, showcasing its unique role in the Hampshire community and shining a spotlight on artistic endeavour and achievement.
Making Space is a community-based craft organisation that creates opportunities for people to discover and develop their design and making skills and to increase their personal well-being through their involvement in high quality craft.
"We offer a wide range of craft experiences where people can expand their understanding of what craft is, does and can do,' said Making Space Director Lynne Dick. "By engaging hands-on with craft, participants get involved in imagining, designing, problem solving and, through use of tools and learnt techniques, making something unique, which is not only very rewarding but goes beyond their expectations."
The venue was designed by Winchester based architect John Alexander to make the best use of light and space. There is a central courtyard at its heart, from which seven studios and two fully equipped community teaching spaces connect, offering an inspirational creative oasis for all.
As well as a wide range of classes, workshops and outreach activities, Making Space also offers studio space, business advice and networking opportunities for early career and established makers and arts practitioners.
Business & networking support
Making Space promotes Hampshire as the place designers, makers and artists can thrive and grow their businesses. The support it offers helps to raise the profile of talent in Hampshire, both regionally and nationally. The organisation is networked with over 160 designer-makers in the area, hosts six networking meetings a year and circulates wider opportunities and information about craft.
The charity offers and buys in expert advice for makers including business planning, advice on pricing work and making a pitch for funding. The UK is a world leader in craft and Making Space is part of this infrastructure. Craft generates £3.4 billion for the economy and 150,000 people are employed in businesses driven by craft. (Crafts Council 2014).
So far, 20 different makers and artists have rented studios at Making Space and as part of the 10th anniversary former tenants will exhibit new work during Open Studios (May 20 & 21, 11am-4pm) providing an opportunity for visitors to chat to artists and to enjoy a wide range of work including ceramics, textiles, jewellery, glass, photography, gilding, printmaking, painting and drawing. Many current and former tenants get involved in teaching classes and running workshops in Hampshire, creating a bridge between their professional practice and community engaged work.
Apprenticeships
Making Space believes in providing opportunities for individuals and emerging makers to develop skills and interests. As part of supporting different learning pathways, the charity has supported two young apprentices who have successfully achieved their NVQ Level 2 Community Arts Administration qualifications. One has just started at Arts University Bournemouth and the other is half way through a creative degree at University of West London.
Volunteers
Since 2014, the charity has helped 90 young people gain their Arts Award and since 2010, has provided over 90 different volunteering opportunities for local people to work on projects, assist artists and help at Open Studios.
10th anniversary celebrations
During the coming year, Making Space will be organising a range of activities for visitors to enjoy and engage in, including:
Ten Stories: Inviting 10 people who have experienced Making Space in the last 10 years to share their story and where they are now.
On the Street Where We Live - Memory Boxes: Recruiting and supporting volunteers to take the memory boxes out and about in the local community in Leigh Park.
10 makers into 10 local settings/businesses: Selecting work by 10 visual artists to take into 10 Havant/Hampshire businesses.
New Ashgate Exhibition (June 24 to August 5): Tenants, previous tenants and associate makers are invited to submit work for exhibition at New Ashgate Gallery, Farnham, with associated community event in North Hampshire and Farnham (funding pending).
Aspex Gallery Cabinet Show – September 2017: Selected craft by tenants, previous tenants and associate makers.
Making Space Charity event – December 2017: Professionally crafted and made work for a charity auction in December 2017, in partnership with a local charity.