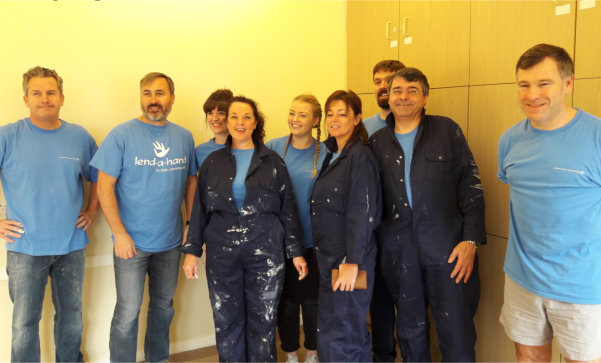 Community First facilitated a morning's volunteering at Leigh Park Community Centre, Havant, for local firm Lockheed Martin UK.
A team of nine willing volunteers gave up their day to decorate a large meeting room and hallway at the popular community centre.
Dan Moore, Facilities Manager at the centre said, "Volunteering is invaluable, this has been a huge help to us. The room has not been decorated for a number of years and desperately needed attention. We would like to thank Lockheed Martin UK at Havant for their hard work in making this a cleaner, brighter space for the local people of Leigh Park to enjoy."
Lockheed Martin UK - Integrated Systems (LMUK IS), regularly takes part in volunteering activities organised by Community First.
Mark Ralphson, Director of Engineering and Technology at Lockheed Martin said "volunteering is a huge part of our DNA, we provide support to many community projects from environmental challenges to help wildlife, to maintaining public spaces. The team have thoroughly enjoyed today, and we hope the work undertaken will go some way to benefit the groups and organisations that use the centre."
For more information on how you can get involved with the Employee Volunteering Scheme, contact Rachel Taylor at Rachel.Taylor@cfirst.org.uk or telephone 0300 500 8085 ext 9724.