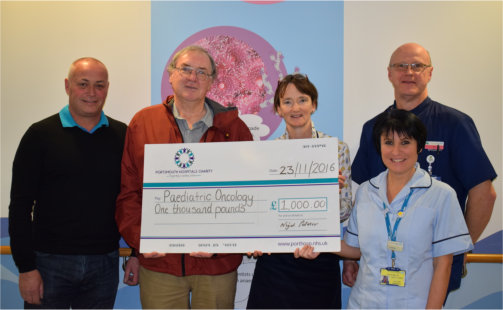 The Ascension Golf Society has raised £1,000 towards the Children's Oncology Charitable Fund for the Children's Department at Queen Alexandra Hospital, Cosham.
The society from North End, who have been going for 12 years and have 40 members, raised the funds through charity golf days and challenges.
Nigel Palmer, Treasurer of the Ascension Golf Society said, "We decided to fund-raise for the Children's Oncology Fund as we wanted the money to benefit children within the local community. It is a hugely worthy cause and one which will make a difference. This is the first charity we have raised funds for and will continue to support local causes each year. Dr Louise Millard, Consultant Paediatrician at Queen Alexandra Hospital said, "We are very grateful for donations towards the Children's Department and for this fund in particular. This money will go towards equipment and training to benefit children with cancer."
The funds were donated to Portsmouth Hospitals Charity, who are based at QA. Portsmouth Hospitals Charity aims to support the patients of Portsmouth Hospitals NHS Trust by improving existing facilities and by providing additional equipment, supporting research programmes and innovation.