Sixteen year old Lauren Kates a pupil at Petersfield School is the winner of the Rotary Portsmouth Group Young Chef of the Year Competition, held at South Down College on Saturday 23 January. Second was Harriet Morgan a pupil of Bay House School Gosport. Both Lauren and Harriet will now go on to represent Portsmouth Rotary Clubs at the Rotary District Final in Bournemouth on 27 February where they will test their skills against youngsters from across the South Coast and Channel Islands.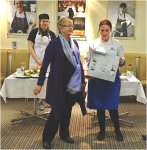 In total six aspiring chefs, aged 13/16, from Highbury College, Park Community School, Hayling College and Gosport schools, Bay House and Brune Park competed for a place at Bournemouth. Judging this close fought event were Andy Jessop from South Down College and Janice Wyatt a professional chief with many years of catering trade experience.
The six youngsters were given a maximum budget of £15 and two hours to produce their three course meal. All were complimented by the judges for their high standard of preparation, culinary skills and presentation.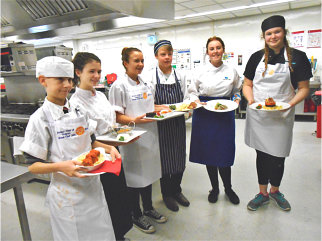 Lauren's winning menu was: Prawn & compressed water melon curry followed by: Pan fried sea bass with minestrone & fresh basil pasta and a chocolate & raspberry mouse sweet.
Her prize, awarded by Rotary District Assistant Governor, Linda Lawson, is a full size gadget packed Kenward Food Mixer. Harriet received a mini food mixer. The other competitors were given a healthy eating cookery book. All received a certificate.
The competition was organised by Havant Rotary in association with the Gosport Rotary club. Both club Youth Committee Chairman, Shirley Varnish and Ray Drake, thanked South Down for hosting the competition and the judges, teachers and parents for the marvellous support given.