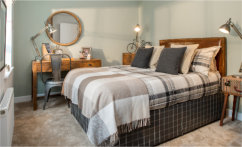 David Wilson Homes has teamed up with one of its interior designers to show homeowners in Portsmouth what the current top trends in interior design are this winter. Interior Design Richard Ornelas from Claude Hooper has given his top trend tips for this season, to help you get the look for winter.
Now that winter has arrived, there are some fantastic new interior design trends coming to light that can help completely transform your home.
Richard said: "Interior design is a great way to do something completely different in your home and really utilise the space you have.
"Our current trends this winter differ a lot from the bold and bright colours used in summer as are much more calming and comforting. We're also seeing deeper and richer colours come into fashion this season as well as metallics, marble and gold.
"We've come up with our top trends for the season that you can easily pick up and do from home."
Here are the five top trends to keep your home fresh and fashionable this season:
Colour
Forest green and various hues of dark green are very in style this new season whether it's for soft furnishings, wallpaper or decorations. Colour is extremely important when looking to redesign your home, if you're looking to change your look with the trends remember to keep the base of your room in neutral tones and bring in pops of colour with cushions, accessories and artwork and even a painted feature wall.
Richard said: "My advice for people who don't like green is maybe consider another jewel colour like teal, mulberry or gold…all of these colours are great for this time of year and very on trend, they create a rich and opulent feel which is great for the dark evenings ahead."
Accessories
Accessorising your home is always a great way to transform each room, and this seasons trends include metallics, a touch of gold, copper and silver all mixed together or used alone can add some depth to your design. Remember your home is a reflection of you so take some time out and spend an afternoon filling a collection of frames with photos of friends and family and create a collection on a spare wall - it will make you smile every time you pass it.
Designs and patterns
A current trend for designs and patterns is keeping things simple and using block colours throughout your home to keep a certain theme.
David Wilson Homes recognises that your home is all about expressing yourself so why not choose bold patterns and designs and theme certain rooms around your interests and hobbies? A huge trend for this season is using marble effect wallpaper or furniture alongside warm copper shades to achieve a classy and stylish look in your home.
David Wilson Homes sales director Michelle Storer said: "Interior design is a huge part of what we do as it's the first thing people notice about our show homes.
"We love to keep up with the latest trends and use top interior designers to ensure we communicate our brand through these designs and that the homes are welcoming to homebuyers.
"As we're into the cooler months now it's important for people to feel warm and cosy in their home and these trends can help you do exactly that, whilst also helping to transform your home.
For more information please call the sales team on 0844 811 5544 or visit www.dwh.co.uk