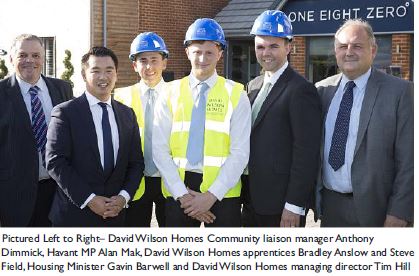 The minister visited the Radian redevelopment of the old glove factory in West Street, and the David Wilson Homes One Eight Zero development in Bedhampton where he met apprentices working on the homes and some of the first residents to move into their homes.
David Wilson Homes managing director Tim Hill said it was a great opportunity to demonstrate how the house-builder is playing an active role in creating new homes in the region, boosting employment and making a substantial contribution to the local economy.
"We always welcome the opportunity to showcase our five star quality and One Eight Zero is a great example of how David Wilson Homes is building some of the finest homes in the area,'' said Tim.
"The Housing Minister's visit to the development reinforces the importance of housebuilding to Hampshire's economy. It's important for housebuilders to work closely with the government for the benefit of local communities." he added.
Gavin Barwell, the UK's Housing Minister said: "My job is to get this country building more homes. It's fantastic to see that David Wilson Homes is providing high quality homes that are desperately needed."
Havant MP Alan Mak accompanied the minister and said: "Getting on the housing ladder is a reality for a growing number of local residents, not just an aspiration. I'm delighted to bring Housing Minister Gavin Barwell to David Wilson Homes' One Eight Zero development and show him a local housing success story. I know how important it is for hard working people to take pride in owning their own home."