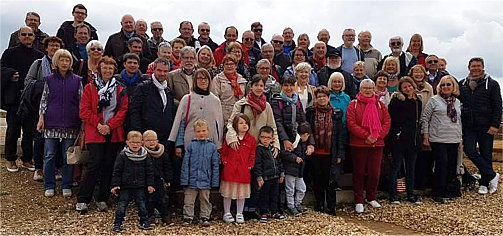 Hayling Island was officially twinned with Gorron, in Mayenne, France, in 1998. Every year there is an exchange visit across the Channel to spend a weekend renewing our acquaintances with families that we have become friends with over the years.
This year we hosted a group of 37 Gorronnaises, including families with 6 children aged between 4-7 years old, and for some it was their first visit to England. It has become our tradition to include culture and English customs during the visit! This year we went to the National Motor Museum at Beaulieu. There was a guided tour of the gatehouse which aroused much interest in the history of the Montagu family and all of the French connections therein. It was a tricky thing to try to explain the English pronunciation of Beaulieu and caused much amusement generally. After lunching in the Domus, we visited the motor museum with its vast and varied collection of rare and unique cars. After leaving Beaulieu our Gorron guests had the wonderful surprise of seeing ponies trotting along the road leading our coach homeward through the New Forest.
Other highlights included a gala dinner and dance at the Hayling Community Centre, attended by the Mayor of Havant Cllr. Faith Ponsonby and her consort Mr Michael Ponsonby. The Mayor of Gorron, Jean-Marc Allain presented a French hydrangea that had been specially created in Gorron and received an etched glass plaque on behalf of Havant Borough Council.
The final day was 1st May and departure loomed fast. Everyone boarded Bob Haddock's Seaside train at Beachlands, and then we were off to say our final farewells and present gifts, as has always been our custom, at the Lifeboat Inn. The children were happy to receive a Hayling Island teddy to remember their adventure in England. Hayley put on a wonderful buffet, but then it was really time for those four kisses each and off to Portsmouth to board the 'Normandie' ferry to Ouistreham, and the 120 km drive back to Gorron.
We heard the crossing was choppy but they are now safely home, ready to return to Hayling next year on the weekend of 5th May to celebrate 20 years of twinning with Hayling Island.
Interested in joining us? Visit our web site at www.haylinggorrontwinning.org.uk