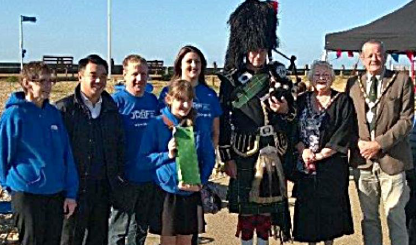 On Sunday 27 September over 100 walkers turned out to support the Juvenile Diabetes Research Foundation's One Walk. Type 1 diabetes is an autoimmune condition which cannot be prevented or cured, people need to inject or use a pump to ensure they receive insulin 24 hours a day, they must also test their blood glucose levels many times a day and night to ensure they stay well. A simple cold or tummy upset could mean a hospital stay and even things like the weather, the food they eat, stress and excitement can affect levels. Despite this Morgan and Emma live life to the full enjoying the same activities as their peers.
The Walk was organised by Mark and Faye Wheller on Hayling Island and helped by Helen Bailey. Morgan Wheller and Emma Bailey both have type 1 diabetes and the walk helps raise funds into finding a cure and also keeping them well.
As well as the walk there were cakes, Denmead Brass Training Band, a Scottish Piper, glitter tattoos, face painting, raffles, classic cars a dog show and a pizza van.
It was a glorious day and was also attended by the Mayor of Havant Leah Turner with her consort, and Alan Mak MP for Havant who also donated a raffle prize.
Over £700 was raised by the stalls at the event with much more money being pledged in support of the walkers.