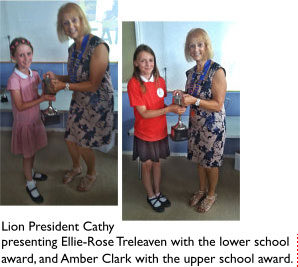 In July, Lion Cathy Shoebridge was welcomed as the new President for the Hayling Lions Club. Cathy joined the Lions three years ago and is delighted to be the new President. In her acceptance speech, she highlighted the fact that over thirty events had been organised in the past twelve months to promote the club and raise an excellent amount of money to support many individuals and initiatives on Hayling Island. In the forthcoming year, Cathy hopes to introduce some new fund raising events as well as a health screening event.
Lion Cathy's first official duty was to present the annual Lions Citizenship Cup during the end of year assembly at Mengham Junior School. This award is given to one pupil from the Upper School and one pupil from the Lower School.
The winner from the Lower School was Ellie-Rose Treleaven and from the Upper School it was Amber Clark. Well done!