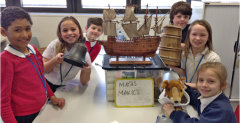 Year 4 children from both Mengham and Mill Rythe Junior Schools were thrilled to be invited to take part in a maths challenge at Portsmouth Historic Dockyard.
The Hayling schools enjoy working together wherever possible and this provided the ideal opportunity to join forces and represent our Island.
Pencils and brains were sharpened as our children, along with other schools, took part in the challenge to use their problem solving skills. They were tasked with calculating the amount of food required to feed King Henry's fleet of sailors. The children then had to use this information and a budget of 300 shillings to work out how much they could spend.
It was delightful to see so many enthusiastic and talented mathematicians working together! The children came back to school buzzing from their experience and keen to tell us everything they had learnt about King Henry.