TARGET - A potentially Life Saving defibrillator to be no more than eight minutes away on Hayling Island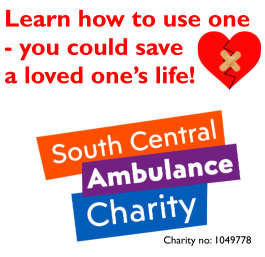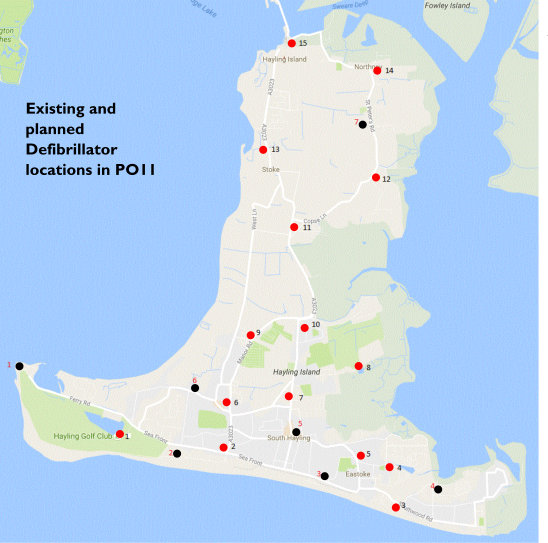 Public Access Defibs fitted on Hayling by HICR. BLACK DOTS on map.
Ferry Boat Inn. Ferry Road.
Surf Shak Café next to Inn on the Beach. Sea Front.
Lifeboat Inn. Sea front.
Premier Store. Creek Road.
Sainsbury's. Mengham Road
West Town Inn. Station Road.
Northney Hall. St Peter's Road.
Public Access Defibs . Sites where we need to fit Defibs in RED DOTS on map.
Hayling Golf Club. Ferry Road.
Gift Shop. Beach Road / Sea Front Roundabout.
St Andrews Church. Southwood Road.
McCoy Shop. Fishery Lane.
Corner of Rails Lane/ Whitethorn. Would need phone box fitted with a solar panel
Barley Mo. Manor Road
Hayling Library. Church Road
Halyard New Estate. Tournerbury Lane
Day Nursery. Corner of Brights Lane
Harvey Brown House. Rest A Wyle Avenue.
Yew Tree Inn. Havant Road.
Lower Tye Farm. Copes Lane.
Esso Garage Havant Road.
Northney Tea Rooms. St Peters Road.
Co-op Garage near to bridge. Havant Road
Find out more about the lifesaving difference the South Central Ambulance Charity is making to our communities at www.sca-charity.org.uk