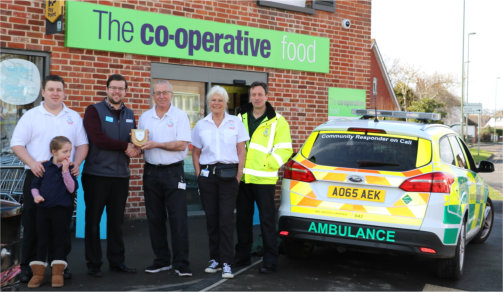 A big thank you to the Co-operative group manager Adam Casey and his staff at the Selsmore Road Co-op who have been supporting the Hayling Community First Responders (CFR) in allowing the CFR trailer to be held in their car park and the generous donations from Co-op customers through the membership charity scheme.
Through the Co-op group charity scheme that supports local communities, customers have given over £450 to the community responders.
The CFR group co-ordinator Peter Halkyard said "The money raised by the Co-op customers will be invaluable in supporting the work of the responders in the community and will assist in maintenance of the public access defibrillators of which we have now have seven fully operational throughout the Island.
In the 24 hours over the period we undertook this presentation to Adam, the Hayling CFR team responded to eight Red 999 calls achieving an on scene time of under 4 minutes for every incident.
March always marks the time in the year when incidents increase as the Islands caravan, tenting and tourist support facilities re-open for the spring and summer season".
From day one when the Co-op opened its doors at Selsmore Road, staff came to the aid of a resident who had fallen in the road until the arrival of the volunteer Hayling CFR, the Co-op has been active in providing practical support to the local community. To meet the responders, come along any Tuesday evening at 1930hrs to the Age Concern building in Webb Lane.