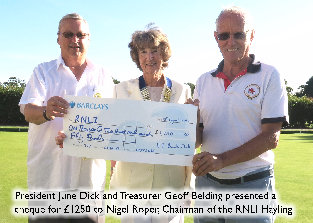 The RNLI Hayling were our guests this year. In the morning Brian Pullan and Malcolm Tipton helped to get the Clubhouse ready. Neil Hook arrived with his BBQ and set up his cooking area on the patio. The Raffle prizes were sorted and numbered. Pauline Johns arrived with her wonderful 'Lifeboat' cake for her separate Raffle. The Club flag went up, the cushions came out and we were ready.
Guests, Members and families started arriving around 2.00pm.After a 'welcome' everyone joined in for the traditional Spider which was won by Malcolm Tipton. Brian Pullan organised teams of four with two guests playing in each team playing six ends. The players then changed to play Target Mat or Target Jacks. In the meantime other guests had a go at bowling on the other rinks. Meanwhile delicious smells were wafting across from the BBQ and at 5.00pm it was ready to serve. As always it was delicious. This was followed by mouth watering desserts.

Each year the Club's President chooses a charity that the Club will support. The Club runs a number of events to raise monies for that charity. This year the Club has raised £1250. Following the BBQ, President June Dick and Treasurer Geoff Belding presented our cheque of £1250 to Nigel Roper, Chairman of the RNLI Hayling, and he made a very nice 'thank you speech' and invited the Club to send a party down to the Lifeboat Station later in the year when they would be delighted to show us around.
Pauline's cake was won by Audrey Smith who in turn donated it to the RNLI Hayling Lifeboat Station for the crew.