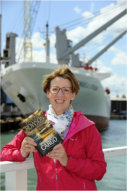 Hayling Island author Pauline Rowson's sixteenth crime novel has been published by Severn House. Dangerous Cargo is the second in her new series featuring marine investigator, former Royal Marine Commando, Art Marvik, whose undercover mission for the UK's National Intelligence Marine Squad (NIMS) is to track down a ruthless killer. The first Art Marvik marine mystery Silent Running was published in the UK and the USA in 2015 and has been hailed by reviewers as 'A tense, terrifying thrill ride that twists and turns with dizzying speed.'
Pauline Rowson is the author of sixteen crime novels, twelve in the DI Andy Horton series set in Portsmouth and the Solent. Her work has received critical acclaim in the UK, USA and Commonwealth where her novels have been hailed as "exemplary", "cleverly plotted, complex and multi-layered." Her novels have also been translated into several languages and her DI Andy Horton series has been optioned for television.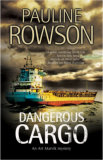 For his second mission with the UK's National Intelligence Marine Squad, (NIMS) Marvik is detailed to attend the funeral of a man who'd officially been declared dead fifty-five years earlier. So who is the imposter and why did he assume the name of a dead man? When an innocent woman is killed during the course of the investigation, Marvik realizes that the stakes are much higher than he'd previously thought. As he begins to uncover a trail of deceit, corruption and murder that spans over half a century, Marvik must confront a ruthless killer who will stop at nothing to make sure that the sins of the past stay in the past.
Pauline Rowson, who lives at North Hayling, says, ' Marvik is a troubled character, tough, highly trained, fearless, intelligent and fit but he is finding it difficult to adjust to life outside the Marines. Just like my other hero, DI Andy Horton, Marvik has a strong sense of justice, but whereas Andy has to operate within the boundaries of the law, Marvik can go outside it and often does on his missions working undercover and as a marine investigator attached to the UK's secret law enforcement agency, the National Intelligence Marine Squad (NIMS). These crime novels, like all my others, are set against the backdrop of the sea, which is my trademark.'
Dangerous Cargo is available in hard-cover from the all good bookshops and on line. It retails at £19.99 and can also be loaned from all UK libraries.