Celebrating High Achievement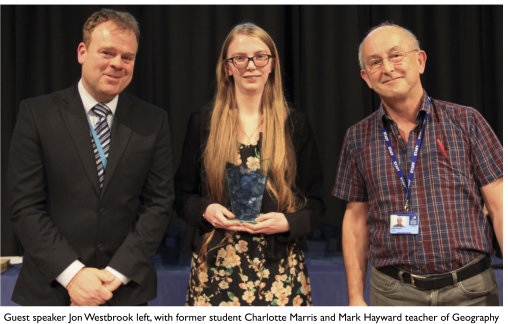 Once again Havant Sixth Form College was delighted to celebrate the achievements of their high achieving students.
On Thursday 5 January more than 100 teachers, parents, students, governors and sponsors attended the College's eighth Annual Awards Ceremony. The event is a real testimony to the students' outstanding academic achievements and commitment to their studies. The awards were sponsored by a range of universities from across the country, as well local businesses.
This year's guest speaker was Jon Westbrook, former Havant Sixth Form College student and graduate of the University of East Anglia, Engineer for various European placements with National Air Traffic Services (NATS) and currently the Programme Engineering Manager responsible for projects to replace the UK Flight Data Processor system which is the computational heart of the Air Traffic control system across the UK. Jon gave an inspirational speech on his studies, experiences and challenges in achieving his career goals and presented the awards to the students.
Mike Gaston, Principal and Chief Executive said, "The awards evening is a fantastic opportunity to celebrate achievement and to recognise the particular contribution of individual students. This is what makes Havant Sixth Form College the high achieving College that it is. Our students are the foundation of our reputation and we have much to be proud of.
We recognise the achievements of a diverse range of students, from those who have attained a standard of academic excellence which marks them out from their peers, to those who have made the best progress or 'added value' in their subject, to the students who, against all the odds, have exceeded expectations and achieved their goals.
The College also honoured the best student in particular courses, i.e. GCSE, BTEC, Work-Based and Adult Courses. However, this Awards Ceremony is not just about academic achievement or progress, it's also about how much students put into College life."
Havant Sixth Form College award winners are now studying a range of degrees at top universities such as: University of York to study History: UCL to study Arts and Sciences: University of Cambridge to study Natural Sciences: University of Birmingham to study MFL including Portuguese; University of Cambridge to study Mathematics an University of Southampton to study Maritime Archaeology. Some of the awards winners have also secured prestigious work placements including an Internship at The Globe Theatre.
By
Matt Rowland, Schools Liaison and Marketing Apprentice