On 31st December 2015 Holly Styles tried out Havant Leisure Centres brand new pool hoist with her parents.
Holly has additional needs, she has physical and learning disabilities which means that she needs extra help when accessing the pool without the hoist she was unable to get in and out of the pool to go swimming with her parents.
It was her parents who encouraged and advised on Havant Leisure Centre to buy a hoist as the pool was difficult to use without it. They provided Havant Leisure Centre with information about funding.
Horizon successfully applied for funding with The Brucewake Trust who funded half of the full amount and Horizon funded the other half. The hoist cost £8000.00 in total and has transformed the facilities for people with additional needs.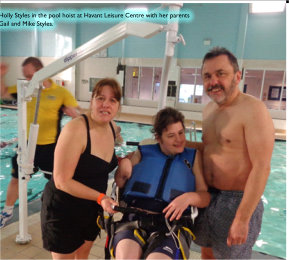 Holly's parents were delighted, Gail Styles said 'The new hoist takes the weight off so she has freedom in the pool, it's great. Swimming is one of Holly's favourite things to do.'
The hoist enables people to easily get in and out of the pool. It has its own chair so the users chair doesn't get wet and it is run on an electronic system so it can move them smoothly from the pool side into the pool and vice versa.
The new hoist compliments the additional needs changing place at Havant Leisure Centre which were refurbished funded by Hampshire County Council. The changing place is suited to those with disabilities and additional needs.
The changing rooms have a height adjustable adult-sized changing bench, moveable beds and a hoist system helping the users to access the facilities more easily and comfortably.
Aaron Comley, Manager at Sea Breeze Residential Home said 'Before we were limited by travel time as we could only go swimming in Portsmouth however now we are able to come to Havant it is much easier for Holly and all our other residents.'
Horizon Leisure Centres hopes that the new hoist alongside the changing rooms at Havant Leisure Centre will mean that many more additional needs users and their family will be able to access the pool with ease and confidence.