Scott Newell and Ryan Bloxsom from Bay House School, Gosport have been crowned the 2016 Create & Cook Competition champions after winning over Head Chef judges with a locally sourced menu.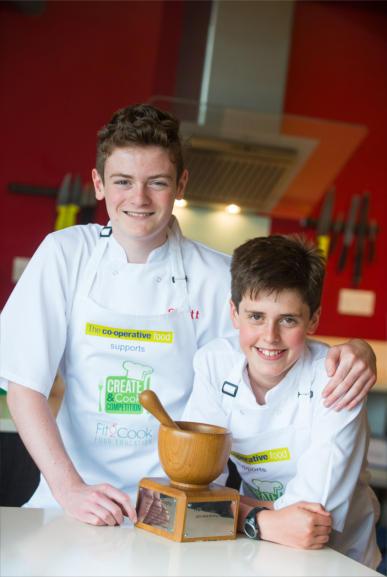 Scott, 13 and Ryan, also 13 fought off stiff opposition from their Sussex, Brighton and Isle of Wight rivals at the cookery competition final, held at Newlyns Cookery School near Hook in Hampshire. Their goat themed menu featured home-made goat sausages with goat's cheese and thyme Yorkshire puddings served with a dessert of liquorice panna cotta with a rhubarb compote and shortbread biscuits.
After winning, Scott said: "It feels really amazing to have won. We're extremely shocked as I didn't think we could win, but also really happy to have won. We've practised our menu every Monday evening since we found out we were in the regional final, sometimes we were even cooking until eight or nine at night. I think it just shows that if you work really hard and are determined, it really does pay off".
Ryan added: "We did a lot of research into our ingredients to make sure they were all really local. We visited our local butcher, Neil Griffiths, who taught us how to make sausages and where all the meat comes from. We also visited the vegetable shop next door, All Seasons, where the owner spoke to us about the importance of buying local fruit and veg."
The Create & Cook Competition, which is run by fit2cook food education and sponsored by The Southern Co-operative, aims to nurture young talent and celebrate local food. The competition encourages students aged between 12 and 14 to create and cook a two course menu using as many locally sourced ingredients as possible.
After judging the competition, Kate Hibbert, Local Sourcing Manager for The Southern Co-operative said: "The standard and quality of the food produced by this year's finalists was simply outstanding, making it extremely difficult to choose a winner. Scott and Ryan's menu was completely inspired by locally sourced ingredients and they went out of their way to learn the details of the origin for each ingredient they used. Both Scott and Ryan approached the challenge with an air of calm and were cool under pressure taking time to talk to all of the judges as we walked the kitchen. Their dedication and cookery skills really shone through in the final – well done boys!"
The competition was judged by Kate Hibbert; Ben Cooke, chef and owner of The Little Gloster, Gunard on the Isle of Wight; Steve Edwards, chef and owner of etch food in Sussex and creative consultant to the new Brighton Airways i360 restaurant; and Andy Mackenzie, co-founder of the Create & Cook Competition who runs the Exclusive Chefs' Academy, nurturing the chefs of the future.
Min Raisman, from fit2cook food education who runs the Competition, was delighted with the standard of cooking this year: "There were some great skills on show - fish filleting, bread making, meringues and sausage stringing! I was delighted to see more boys entering our Competition this year and reaching our finals."
Judge and Hampshire chef, Andy Mackenzie said: "It was amazing to watch both Scott and Ryan remain so calm throughout the final and for them to be able to cook with such exuberant confidence. Creating the goat sausages from scratch and using the acquired taste of liquorice in a panna cotta could have gone extremely wrong in many ways, but the boys did a fantastic job and all of the judges loved the dishes".
Other finalists in the competition included Ben Spooner and Harvey Walters from Varndean School, Brighton who created a Sussex fish stew with homemade bread and Brighton meringues; Akram Bouabane and Kyle Hobson from Oak Grove College, Worthing who produced home-smoked spiced chicken with homegrown salad leaves and a spiced mackerel main; and Kirsty Sciver and Nadia Robertson from Christ the King College, Newport who created Island chicken stuffed with homemade pesto and chocolate melt in the middle cupcakes with mini meringues.
Scott and Ryan have won £1,000 for their food technology department and the fit2cook trophy. All the competition's finalists were awarded with a trophy featuring their recipes, professionally styled and photographed for doing so well in the Competition.
The 2016 Create & Cook Competition was also supported by Hampshire Fare, Hampshire Farmers' Markets, Wightlink, Exclusive Chefs Academy, etch food, The Little Gloster, Field to fork, City College Brighton, South Downs College and Newlyns Cookery School.
To find out more and create the finalists' recipes yourself, visit: fit2cook.co.uk/recipes