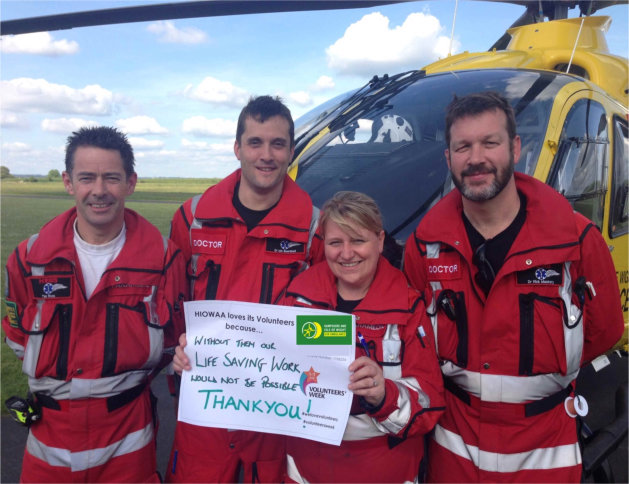 Hampshire and Isle of Wight Air Ambulance (HIOWAA) is urgently seeking volunteers to help promote its life saving service across Hampshire and the Isle of Wight. The charity currently has a loyal team of volunteers and hopes to begin recruiting new volunteers as soon as possible, in preparation for the busy summer event season.
'Our volunteers are the backbone of our charity and they provide an essential link to the communities that we serve. We urgently need new volunteers for a variety of roles to help us spread the word about our life saving work' commented HIOWAA Charity Manager Sherie Williams Ellen.
Volunteers provide invaluable support to HIOWAA throughout the year, fulfilling a number of important and rewarding roles. From giving talks to local groups to distributing donation pots, attending fundraising events, and presenting the charity's highly successful 'Be a 999 Hero' Education Programme, volunteers play a key role in the day to day fundraising activities of the charity.
'Volunteering not only provides the perfect opportunity to support our life saving service, but it is also a great way to learn new skills and it can be a lot of fun. We are always looking for volunteers to wear our popular character mascots at events and presentations.' continued Sherie Williams Ellen.
Hampshire and Isle of Wight Air Ambulance flies seven days a week and attends an average of two to three missions a day, many of them life saving. The charity receives no government, statutory or national lottery funding for routine operations, and is entirely dependent on donations received from members of the public, companies and grant-making bodies to keep the Air Ambulance flying and saving lives.
Anyone interested in volunteering opportunities should ring the HIOWAA office on 02380 333377 or email enquiries@hiowaa.org