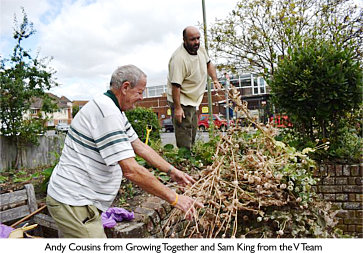 Local Growing Together project run by Hayling Island Horticultural Society, have once again linked up with Community First's V Team, a team of supported volunteers.
The V Team work on local community projects as a team, tackling larger jobs such as gardening, conservation work and community events. Growing Together, aims to:
Enable adults and children to have fun and develop together.
Cross the intergenerational divide.
Offer children a healthy and productive extracurricular activity.
Instil an interest in plants and where food comes from.
Learn basic gardening and teamwork skills.
The V Team have previously worked with Growing Together in the grounds at local schools and at the Hayling College. On this occasion on Friday 14th July, the V Team helped Growing Together clear the Memorial Garden at Selsmore Road on Hayling Island. They cut back shrubs and trees and cleared the area of weeds. The area will then be replanted to make it a nice place to sit and rest for the local community. They dug up and cleared over 30 bags of weeds and shrubs. The V Team couldn't see the garden when they arrived as it was so overgrown but it can now be clearly seen from the roadside.
Bill Biggs, Ray Jones and Andy Cousins of Growing Together also helped out and Bill said "the team worked so hard and have really helped us out, they will also be coming back in a few weeks to help us finish the garden. We are so pleased with the results and are really grateful for all the help they have given us. They are a great bunch". Ina Allum, Supported Volunteer
Coordinator from Community First said "We had a great day helping the guys from Growing Together, they are real characters and great fun. I've also really enjoyed working with all of the V Team Volunteers over the last few years, they work so hard and I'm really proud of them and what they have achieved. We recently secured funding via a Big Lottery Fund Reaching Communities bid to continue our work with supported volunteers and have a new exciting project called Positive Pathways starting at the end of September which will continue the good work already achieved by the V Team and enable us to offer a more structured pathway for members to improve their confidence, wellbeing and employability."
For more information about the V Team please contact ina.allum@cfirst.org.uk, and for the new Positive Pathways project please contact Mandy Harris on mandy.harris@cfirst.org.uk