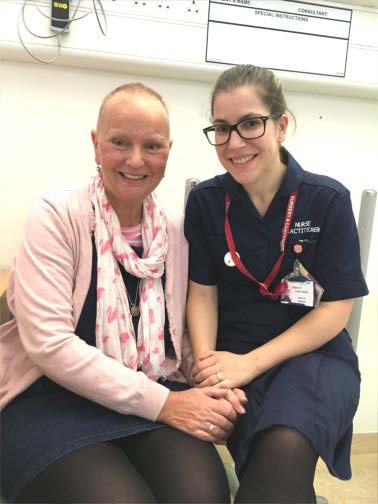 Over the past three years Julie Ankers, from Bedhampton has raised an incredible £3,000 for Portsmouth Hospitals NHS Trust's Oncology Department and the Whitburn Trust.
Mrs Ankers like many brave cancer survivors has been through many treatments and has participated in many clinical trials.
By setting an example, women from a gynaecology cancer support group have also helped to raise the funds.
Julie has touched so many lives with her smile, humour and generosity. She also donates her head scarves and wigs, when she upgrades her own.
Cheng Chit Yeoh, Consultant for Surgery and Cancer said, "Our patients have such grace and generosity that even in their darkest moments of their cancer journey, they think of bettering everyone and, to our fortune, the Oncology Department. This is what I find truly humbling in mankind."
The funds were raised through a charity quiz evening and various events. Julie's Daughter Charlotte also has an ovarian cancer awareness table at each event.
About her fund-raising, Julie said, "I would like to say a huge thank you to Cheng and the Oncology Day Unit for their care and for inspiring me to raise important funds to help their work. I'd also like to thank all of my family and friends for their support and to various local businesses for donating raffle prizes."
The funds raised from Julie's fund-raising for Portsmouth Hospitals NHS Trust have been put towards the purchase of an important blood counting machine in the Oncology Department.
If you would like to fund-raise for a Ward or Department close to your heart within Portsmouth Hospitals NHS Trust, Portsmouth Hospitals Charity would love to hear from you. To speak to a member of the Fund-raising Team, please contact 023 9228 6000 Ext: 5927 or email fundraising@porthosp.nhs.uk