Hello, it's me Giggles, the out and abouter reporter for the Cat and Rabbit Rescue Centre. I thought you would like to read this letter that has been sent to me from two little black cats that were lucky enough to find a special home with the help of my lovely staff.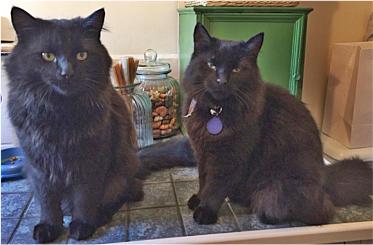 "Dear Giggles,
It's us, Merlin and Ember. We lived with you at the CRRC after our owner moved away. The lovely ladies at the CRRC looked after us really well but we longed to go outside like you. If you remember, some people came up to see us that especially wanted black cats and the lady had seen our picture on something called the internet and thought us to be handsome and beautiful!! I fluffed up my fur, purred and rolled about and showed off my skills with a ping pong ball. Ember left it all to me as she had just had her flea treatment and was in a strop. Luckily our new family realised her problem and gave her a chance. She is very well behaved and so happy now. We get lots of cuddles and love every day and have our own brushes and little beds, although we much prefer the sofas!! Thanks Giggles for being there for us when we were so sad. We now have the best home ever. So that's our news! You know what they say….BLACK CATS REALLY ARE LUCKY. With Love and cuddles, Merlin and Ember XXXX"
There are so many more cats here that are waiting for their forever home so please, if you are interested in adopting a cat, kitten, rabbit or guinea pig then please call us here at the centre on 01243 641409.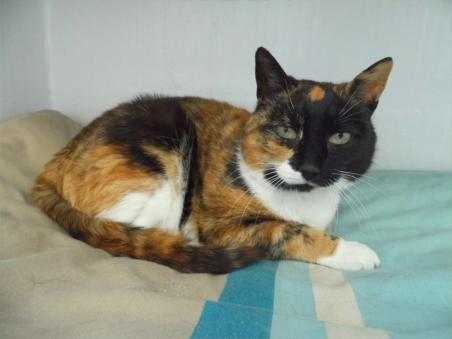 KF141-05
Please say hello to our beautiful lady. She was originally rehomed from the Centre as a kitten back in 2005 (hence the kitten number for a name) but sadly had to be returned to us in May of this year due to her owner having a change in living circumstances which meant that KF141-05 ended up living with a dog that attacked cats! She is now 9 years old and desperately seeking her forever home. She is such agorgeous girl and loves nothing more than a cuddle and a lap to sit on. She does have specific dietary needs but please don't let this put you off of enquiring about our special girl as she really does deserve a loving home and a new owner that she can cuddle up to. If you think you can provide her with that loving home then please do not hesitate to contact us here at the Centre on 01243 641409.
PS: We have a Rehoming Day Saturday 28th November 12-2pm. Rehoming days are nonappointment days so people thinking of adopting a cat can pop along. Otherwise we rehome 7 days a week by appointment only.
THE CAT & RABBIT RESCUE CENTRE
Holborow Lodge, Chalder Lane,
Sidlesham, W. Sussex PO20 7RJ
Tel: 01243 641409 Reg. Charity no.
1010000
Email: info@crrc.co.uk
www.crrc.co.uk
Also find us on facebook
www.facebook.com/catandrabbitrescuecentre