REG'S SEPTEMBER & OCTOBER GARDENING TIPS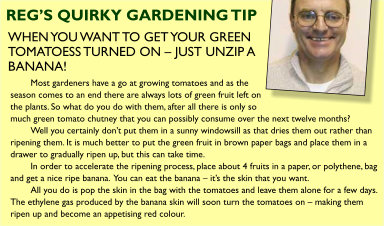 Reg was one of the regular presenters on 'Gardener's Diary'; which was one of the longest running, continuous gardening series, giving hands-on tips and advice for over seven years, on ITV and satellite channels.
EARLY SEPTEMBER
This is a good time to move established evergreen shrubs, and the traditional time to start planting new trees and shrubs of all kinds.
Make-up winter hanging baskets using pansies, bright evergreens and winter flowering heathers.
Prepared hyacinths should be planted and put in a cool, dark place by the end of this month if you want them in bloom by Christmas.
MID SEPTEMBER
Sow some hardy annuals outdoors in flowering positions in sheltered spots.
Scarify the lawn to remove "thatch" and feed with Autumn lawn dressing.
This is a good time to sow or turf a new lawn and repair bare patches.
Grease band the trunks of fruit trees to trap the wingless female Winter moths as they climb them to lay eggs.
Strawberries should be planted by the end of this month for cropping next year.
Plant garlic now in a sunny free draining spot. They like a long growing season in order to make the best cloves.
If your lawn is infested with leatherjackets or chafer grubs control them using natural biological pest control agents.
Sow green manure crops on vacant areas of the veg. garden for digging in next spring.
Plant Japanese onion sets to get a lovely crop of flavoursome onions ready from June.
LATER SEPTEMBER
Lift beetroot, carrots, turnips and potatoes for winter use. Leave parsnips and swedes in the ground to develop more flavour.Sow some compact hardy annuals in a cold greenhouse to grow into winter flowering pot plants.
Pick green tomatoes for chutney or ripening in a brown paper bag in a drawer indoors.
Reduce watering and ventilation in the greenhouse as temperatures drop.
Lift, divide and re-plant early spring flowering herbaceous perennials.
Bring in any tender shrubby plants taken outside for summer displays e.g. Brugmansia.
Bring in tender floating pond plants, like water chestnut and water hyacinth before frost.
Prune summer fruiting raspberries by removing old, fruited canes.
Take cuttings from roses, preferably using shoots that have flowered. Trim them to 23cm (9in) long.
Increase ventilation for indoor grapes to reduce fungal attack.
Treat sheds, fences etc. with a good wood preserver.
Bring in any houseplants that have been outside "on holiday" for the summer.
EARLY OCTOBER
New lawns can still be seeded (soon) or turfed this month.
Osteospermums, Arctotis, Argyranthemums and other tender perennials should be lifted from the borders, potted and brought inside for the winter.
Spray peaches and nectarines with Vitax Copper Mixture, or Bordeaux Mixture against peach leaf curl.
Spring flowering bulbs of all kinds can be planted outdoors this month.
MID OCTOBER
Rake up fallen leaves both for general hygiene and to use to make leaf mould – a valuable soil conditioner.
Continue planting spring flowering bedding like Wallflowers, Brompton Stocks, Forget-Me- Nots and Sweet Williams.
Allow the first frosts to blacken off Dahlia foliage before lifting and drying the tubers ready for winter storage. Treating the tubers with sulphur dust before storage helps to prevent rotting.
LATE OCTOBER
Dead foliage on any herbaceous plants can be removed between now and next Spring.
Sow broad bean Aquadulce Claudia in mild areas to crop next June.
Plant Paperwhite Narcissi now for flowering in mid-December. Keep the planted containers in a light warm place.