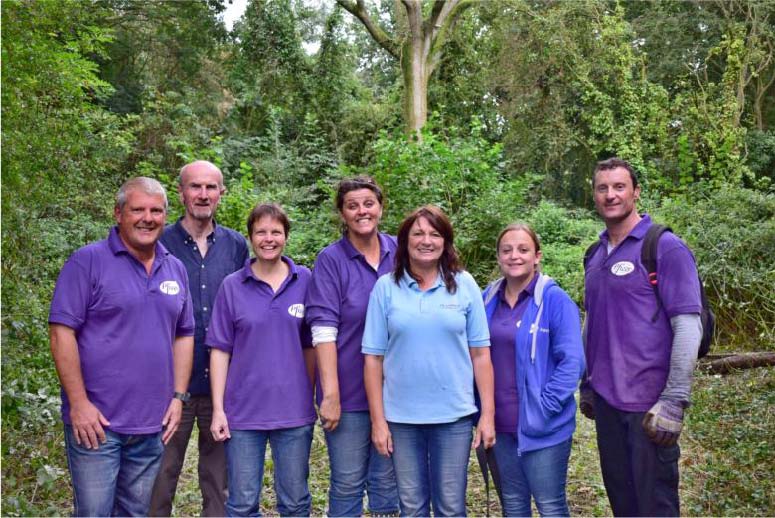 This week a team of volunteers from Pfizer, the large pharmaceutical company based in New Lane Havant, supported local conservation project Friends of Nore Barn Woods. The purpose of the day was to cut back and clear areas of the woods to help keep it maintained, allowing the natural habitat to flourish. The woods are located close to Emsworth town centre and are enjoyed by dog walkers and people who are drawn to the popular harbourside walk. Roy Ewing, Chair of the project said "I'd like to thank the Pfizer team for helping clear the Glades at Nore Barn Woods in time for the start of conservation season. They cleared 3 large areas of brambles and nettles to open up some lovely glades and they all worked really hard. It was great to see the finished result".
Nore Barn Woods Conservation Group has been operating since 2002 and has regular working parties to help maintain the area which is owned by Havant Borough Council. Having regular volunteers to help keep the woods maintained is very important. Nicky Tallack from Pfizer commented "We enjoyed the day. It was really hard work but it gave us a really good feeling to see what we had achieved. Helping a conversation group as a one off gives them lots of extra 'manpower' and makes a real impact in a short time period".
If you would like to get involved and volunteer at one of Friends of Nore Barn Woods working parties contact Roy Ewing royewing1@gmail.com. Or if you are a business that would like to find out how you can volunteer in the community, contact janet.duggan@cfheh.org.uk or telephone 0300 500 8085 ext 9722.