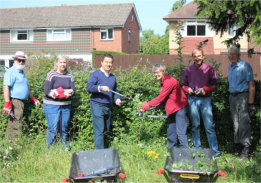 Alan Mak MP visited New Lane cemetery to meet members of Friends of Havant Cemeteries during their monthly work session.
The group showed him around the different parts of the cemetery, explaining both their role in conserving it as a natural resource and making it attractive to visitors, as well as their interest in learning more about the history of Havant, that can be discovered from researching the names of those that are buried there.
The group has recently been awarded a Heritage Lottery grant, so also took the opportunity to relate to Alan what the grant will enable them to achieve. These include providing additional display boards, together with new gates and a bench for The Dissenters Cemetery, as well as holding open days in conjunction with The Spring Arts and Heritage Centre.