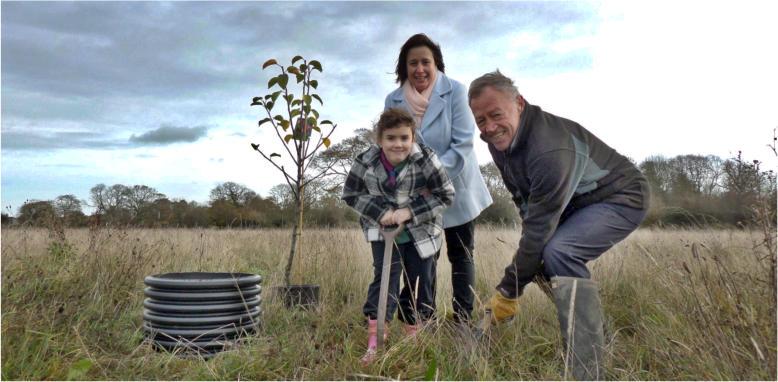 A community orchard is taking root after volunteers planted their first apple trees in a field on the Hampshire/West Sussex border.
A total of around 50 residents from Emsworth, on the Hampshire side, and Westbourne, in West Sussex, joined to plant the trees on Saturday. [28 November]
A plan to create an orchard was launched more than three years ago by local environmental campaign Greening Westbourne. A group of volunteers has been working to put the plan into action.
Now the first eight trees, about five feet high, have been planted. They will be joined by eight more in January, with the first crop expected in the autumn. The group also plans to plant other types of fruit tree, such as pears, plums and apricots. The goal is to have 50 or 60 trees eventually, with benches nearby.
The site is at Hampshire Farm Meadows, the new public open space next to the Redlands Grange housing development in Emsworth.
Westbourne Beavers, Cubs and Scouts turned out in force for the planting, and local tree surgeon Mike Reed lent his expertise.
Richard Hitchcock, of Greening Westbourne, said: "It's wonderful to have trees in the ground after a lot of hard work finding a site, getting some initial funding and recruiting a team to make it happen.
"Our idea is to help preserve traditional fruit varieties and help local people, especially children, get a bit closer to the earth. Growing food reminds us that it doesn't always have to be flown thousands of miles across the world.
"We hope the orchard will be an attractive feature of Hampshire Farm Meadows, and something our two communities – Emsworth and Westbourne – can enjoy together.
"We're very grateful to Havant Borough Council, who worked with us to get the project off the ground, along with site developers Bloor Homes and Bellway Homes. We're also very thankful to the Tree Council who gave us a grant to get us started.
"We now need to find more funding to complete the orchard."
The group hopes one way of raising funds will be by residents sponsoring trees, perhaps to mark a family event or remember a loved one.
Anyone who wants to get involved with the community orchard or with Greening Westbourne can email greeningwestbourne@hotmail.co.uk