Scrooged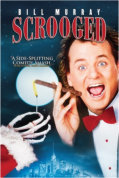 This film, based on Charles Dickens' Scrooge, stars Bill Murray as the Scrooge figure, only this time the story is updated for the modern audience.
I was pleasantly surprised with this film; I didn't expect to like it as much as I did. It's a fun film and an interesting take on the well-known and much-filmed story. I think Bill Murray did well in the title role and it was quite funny, albeit in a dark way, some times. And it is a black comedy, so it does have some scary scenes. It's rated 12, so it's definitely not your average Christmas film. It's not very feel-good, as most Christmas movies are, but that doesn't mean it's not enjoyable. It is.
I would recommend this to people who want a new take on the tale and for those wanting a fun time.
Four Christmases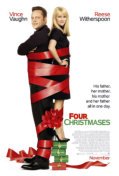 Reese Witherspoon and Vince Vaughn in a comedy about four divorced family Christmases and them trying to attend each one. A film starring Vince Vaughan brings to mind a different type of comedy than Reese Witherspoon does. Vince Vaughn is mostly known in films that are crude and Reese Witherspoon on the other hand, is mostly known for light and frothy comedies (some call chick flicks – and they definitely are, most of them, anyway). So, a film starring the pair together is a bit intriguing.
It's sad to say that bringing them together only makes this film a little better.
As a whole, the film could be worse, but it's just average. The performances are ok and that goes for the film, as well. The worst thing about this film is that it's not very funny. I was amused at a bouncy castle scene, but that was it for the laughs, and even then I didn't laugh out loud. It wasn't glaringly funny. I digress, it could have been much worse than it was. As it is, it's ok.
Puppet Master 3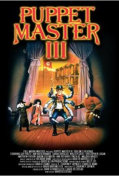 The third film is an origin story of the first puppet, the original killer puppets that Toulon created in Nazi Germany, however there's Retro Puppet Master where they trace the puppets back to ancient Egypt, which is a bit confusing. However, in this third, and one of the last great films in the series, older incarnations of the puppets in the first and second films are shown and also there are some completely new to us puppets. I especially like the scene where a puppet climbs a building to assassinate a person. People who didn't like the other films will also not like this one, but those who did will enjoy it a lot. There's a fare share of gore in this, too, which is pretty graphic. Ok, it is a B-movie, but the effects are still great and it is fairly entertaining.
Puppet Master 4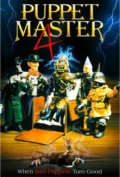 This is when the series started to dip in quality. This fourth entry is still watchable and has serviceable effects (however, little gore), but it is just a step down. It's almost like a childish version of the first two films, which is not ok. I think these two films (4 and 5) got an R rating, but they are definitely not hard R rated movies. They could almost be PG-13, there's that little gore. It's good to see the puppets helping people out and the new puppet's enemy is good, but some scenes are just naff, the science is shoddy and it's all extremely predictable.
By
Dimitrios Papageorgiou