A Royal Night Out
Lights… Camera… Period costume comedy.
Although I am not a big fan of these sorts of films, I was very surprised at how good fun it was. At the start I had low hopes, being the sort of person not really into this genre. However, after a couple of seconds I started to get into the story and the characters who were all played marvellously by the talented cast. The cast simply sparkle and bring extra light to the show. The cinematography is exquisite, perfectly evoking the period and being just beautiful to look at.
The laughs were almost all really funny, and I had to brace myself in order to not laugh-out-loud, which was quite hard to do, I have to say.
If you're not a big fan – like I am – of the period comedy, I highly reccomend this film. It will change your perspective of this genre. For those who are big fans of this genre, it will be a very worthwhile experience.
Special thanks to a wonderful screening from The Spring Arts and Heritage Centre.
This truly is a wonderful film.
Feast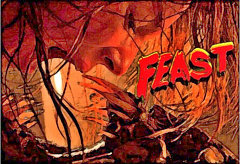 This gloriously gory, monster horror is a brilliant straightforward flick. Feast certainly knows what the target audience wants, and delivers in gallons.
There's also some black humour, and, whilst the story is predictable, who will survive the onslaught is not. A fun little shocker for those who like their horror painted red.