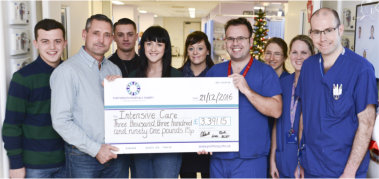 Along with his friends and family, Darren Clark from Havant has kindly raised £3,391.15 for the Critical Care Unit at Queen Alexandra Hospital, Cosham.
The money was raised after Darren's partner Sharon, 46 passed away from pneumonia on the Unit in September 2015.
To raise the funds, Darren and his friends and family took part in the Great South Run, they held two successful charity car washes and took part in an exhilarating skydive.
Before his fundraising, Darren said, "I am fundraising for the Intensive Care Unit as my partner passed away in that Department in September 2015. We are fund-raising as we would like to give something back."
Steve Mathieu, Clinical Director for Critical Care said, "We are incredibly grateful to Mr Clark, his family and friends for this generous donation of £3,391.15. Thank you on behalf of the whole Portsmouth Critical Care Team."
Including Darren, nine of his friends and family took part in Portsmouth Hospitals Charity's skydive in July to raise funds for Critical Care.
After the jump, Darren said, "The support shown was very important to myself and my family as it brought us all together and was a huge pick me up. The support spurred us on to take part in the Great South Run, organise two charity car washes and to take part in the skydive. Taking part in the skydive was an emotional yet hugely rewarding experience."
If you would like to fundraise for a Ward or Department close to your heart within Portsmouth Hospitals NHS Trust, Portsmouth Hospitals Charity would love to hear from you. For more information and to speak to a member of the Fundraising Team, please call 023 9228 6000 Ext: 5927 or email fundraising@porthosp.nhs.uk
For more information about the Intensive Care Unit, please visit www.portsmouthicu.com
Portsmouth Hospitals Charity aims to support the patients of Portsmouth Hospitals NHS Trust by improving existing facilities and by providing additional equipment, supporting research programmes and innovation in the development of services and education to both patients and staff.
The charity supports all of the Wards and Departments across the Trust and you can choose to support and fundraise for an area of the hospital that is close to your heart.