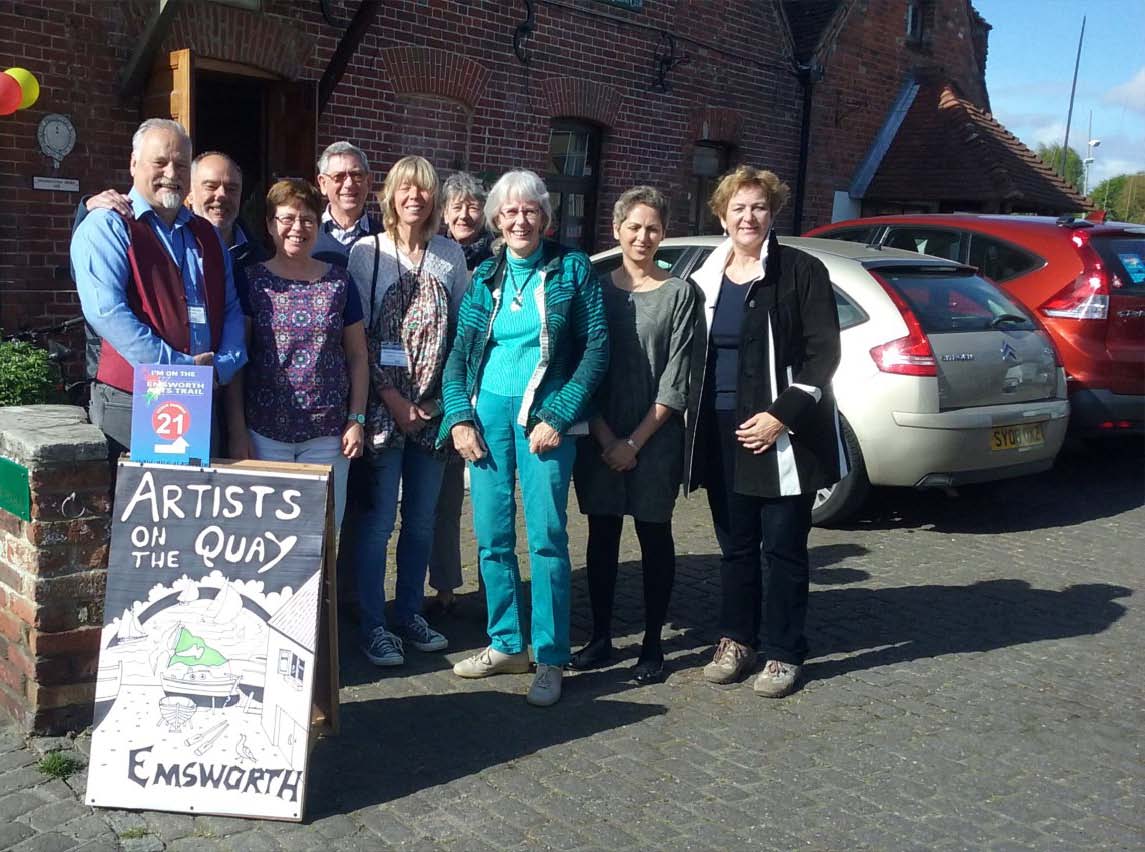 One venue saw 1440 visitors over one weekend Visitors came from around the World to enjoy work from over 150 local artists 45 local businesses adopted artists huge community success.
Emsworth certainly came alive with a splash of colour on the first weekend of the Emsworth Arts Trail. Over 150 artists at 77 local venues opened their doors to art over two weekends, bringing thousands of visitors into the town. Artists on the Quay, a group of creative sailors and club members, put on an exhibition at Emsworth Slipper Sailing Club to showcase their work. Organisers David and Annette Evans, recorded over 1440 visitors to their venue over the two days. Although they were only open for the first weekend they managed to raise around £300 for their charity the Wheely Boat Trust through commission on sale and donations. The charity provides specially adapted boats suitable for taking disabled people in wheelchairs out sailing.
Artists welcomed visitors into their home studios, community spaces, halls, pubs and churches, where a wide variety of mediums and styles including painting, printmaking, photography, furniture making, weaving, woodturning, ceramics, jewellery and textile art were on display. Even knot lovers, young and old, were delighted to see the work of knot master Ken Yalden, pictured above passed his skills onto a potential future generation of knotters at Harbour Chandlers, in Emsworth Yacht Harbour during the trail.
The buzz surrounding this year's Emsworth Arts Trail certainly spread throughout the south, if not the World, bringing visitors from near and far.
We were delighted to welcome a VIP guest to the Trail on Saturday 29th April; the Mayor of Havant, Councillor Faith Ponsonby. She visited artist Carol Price's venue in Park Crescent to view her exhibition of new work, and also met some other visitors who had travelled all the way from Canada and Israel to enjoy the Emsworth Arts Trail.
"We'd liked to say a huge thank you to all our wonderful visitors; it's their enthusiasm and support that help make it such a fantastic event," commented Carol Price, Chairman of The Emsworth Arts Trail. "What's special about our trail is the way it brings local artists, residents and businesses together in an annual celebration of art, creating a real sense of vitality and community in the town.
"Forty-five Emsworth businesses adopted artists; their support really helped promote the trail. Space was provided in their shop windows and walls to showcase pieces of work. On many occasions great relationships are built, which can lead to more permanent exhibitions within shops, cafes and restaurants.
On The Emsworth Arts Trail Facebook page, it received plenty of praise from visitors: Carol Ann Waldron - 'Excellent ... thoroughly enjoyed the trail. The only disappointment is that, with so much to see, I had to be selective! Congratulations to all involved.'
Erika Anne - 'I have my artist cousin from California over to enjoy the arts trail! How far round the world can we go?'
Pauline Cook - 'I always enjoy the Emsworth Art Trail. Thank you to all of the exhibitors for sharing their work, their homes and their inspirations.
Heather Sullivan - 'It was fabulous with such lovely artists.
Carol goes on to explain; "Emsworth Arts Trail brings a real sense of community to the town. All the artists on the trail meet regularly during the planning stages, where new friends are often made. The involvement with local businesses provides vital help with the promotion of the event and our local residents often invite guest from far and wide to spend the weekend in Emsworth getting to know our wonderful Town. They stop for a drink or buy a sandwich along the way, and see the fantastic creativity on show. There's something to interest everyone, even gardeners are catered for with some great private gardens to explore.
"We'd just like to thank all those who have taken part in what has been our largest ever arts trail. We hope that those who visited our venues enjoyed meeting our talented artists, and finding out about our materials, processes and inspirations. If you took a few art works home, we hope they will become things you treasure. We look forward to seeing you again next year," she concludes.