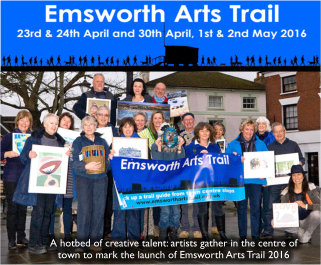 The South's art lovers are in for a real treat this spring as Emsworth Arts Trail announces over 160 artists will exhibit in this year's event. Designed as a walking trail, nearly all of these artists are located within a mile of the centre of town at 64 different venues.
This year we have 16 new artists and eight new venues, making it the biggest Trail yet."
New artists this year include Charles Dedman, a talented young furniture maker and recent graduate from Chichester University. And, paper-maker Adrian Mundy brings art and gardening together in his Arts Council England (ACE) funded Grow An Exhibition project, Natural Imperfections being displayed at Tuppenny Barn during the Trail.
"It is very exciting to welcome a number of very talented new artist-makers this year, and it just illustrates the vast range of creative talent visitors can enjoy as they follow the Trail around the town."
Now in its 15th year, Emsworth Arts Trail has something to interest everyone with painters, printmakers, photographers, furniture makers, weavers, wood carvers, ceramicists, jewellers and textile artists displaying their work in home studios, churches, community halls, pubs, sailing clubs and shops throughout the town.
"What's unique about our Trail is that it's a walking trail; "The Trail also brings many additional visitors to the area, giving a real boost to local businesses."
The event runs on the two weekends of 23rd - 24th April and 30th April, 1st, 2nd May 2016.
For more information and a copy of the trail guide visit: www.emsworthartstrail.org.uk