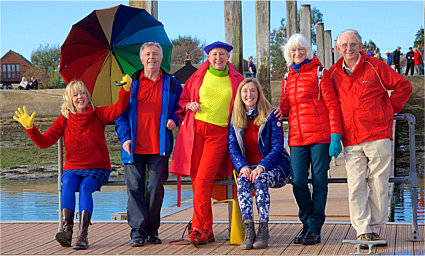 Over 150 artists at 78 local venues will open their doors to art lovers throughout the town in the biggest Emsworth Arts Trail yet on 22nd, 23rd April and 29th, 30th April & 1st May 2017.
From home studios to community-centres, businesses, halls, sailing clubs and churches, nearly all venues are located within a mile of Emsworth town centre. A variety of mediums and styles including painting, printmaking, photography, furniture making, weaving, woodturning, ceramics, jewellery and textile art will be on display.
"Each year we attract exciting new artists and makers, offering something new to visitors, alongside many established names that have been part of the trail since its launch in 2001," explains Carol Price, chairman of The Emsworth Arts Trail. "Working alongside local business we know the Trail stimulates economic activity in the town and adds to an increasing sense of community, it's also a great deal of fun for the artists as well as visitors"
Local businesses are invited to get involved too with over 35 companies around the town paired up with one or more artists to exhibit their work in an 'Adopt an Artist' scheme.
"We are delighted that so many shops, restaurants, churches, pubs and cafes across the town have offered their premises as temporary galleries so that visitors will be able to take advantage of all that Emsworth has to offer whilst enjoying the art on display. while another group of six artists can be visited at The Brookfield Hotel, to the west of the town.
Look out for Artists on the Quay, a collective of Emsworth Slipper Sailing Club members that put on a show during the first weekend of the Trail raising money for their Wheelie Boat Charity.
Hewitt's welcomes Art Invisible a group that guides, supports and promotes the talents of its artists, all who have learning disabilities.
And, of course don't miss all the local artists who open up their studios and gardens to welcome visitors to their homes, definitely worth a visit for a chance to see their work and spend some time in their company.
The event runs over two weekends on 22nd – 23rd April and 29th, 30th April & 1st May 2017.
Visit the Emsworth Arts Trail's new website for more information on each artist, opening times, access and an interactive trail map www.emsworthartstrail.org.uk