AUCTIONEER & ANTIQUES ENTHUSIAST HILARY BOLT on EASTERN PROMISE
Over the last 20 years I've been lucky enough to turn a life-long interest in "old things" into my current day jobs – auctioneering in Emsworth Auctions and running an antiques & collectables shop, Emsworth Antiques Etc. in the town's West Street.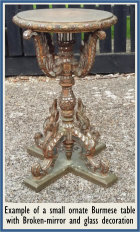 In this business, it's not so much who you know, as what you know that counts. You'll never know everything about everything, but having knowledge and experience in a niche subject or two can be very useful to yourself and others.
I've lived in Emsworth for over 35 years now, but I'm by no means a 'local'. My father was a Methodist Minister who started his church career in Burma (now Myan Mar) a few years after WWII. That was where I was born – in the Burma Oil Company hospital in a hill town then called Maymyo.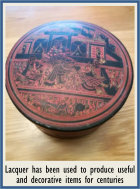 We fled Burma at 4 days' notice in 1962, and I've lived in Britain ever since. But I've kept up my natural interest in the articles which surrounded me in my early childhood – lacquer boxes, gilded furniture, ornate carvings of dancers, ships and all sorts of ivory and mother of pearl, silver gongs and caddies.
I was delighted when I came across this little table a while ago, realising that it was from Burma c1880 – of no great value, but with all the exuberant ornateness of Burmese decoration.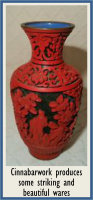 Of course, in an area such as coastal Hampshire, my somewhat exotic origins are by no means unique. There are many serving and retired service families who have lived in the area for many more years than I, with parents and children born on the far side of the globe.
In so many cupboards and chests are oddments and bygones brought back by those serving and sailing a passed world. Furniture and furnishings also came home with returning colonial families, and others more or less useful like Anglo-Indian era mirrors or deeply carved folding tables. Oriental articles and styles are not to everyone's taste, but there is a charm in their crafting and decoration which appeals to enough of us to wish that more should be unearthed by their current guardians, so that they can achieve a wider appreciation.
Lacquer, I think, is an under-estimated material. Its versatility and strength produce a huge range of decorative and useful articles. Cinnabar ware vases and bowls have impact and stature. Oriental silver (although generally 800 standard rather than sterling) often has charming decoration, although somewhat naïve for our tastes, although much of what 'came home' was produced for the western market rather than indigenous use.
I guess that what I'm really saying is : I love all that sort of thing. If you have any to show or dispose-of, please think of me.