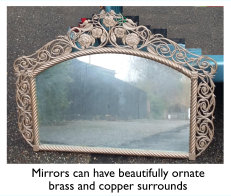 Over the last 20 years I've been lucky enough to turn a life-long interest in "old things" into my current day jobs – auctioneering in Emsworth Auctions and running an antiques & collectables shop, Emsworth Antiques Etc. in the town's West Street.
For years we have relied on copper and brass to do the jobs we need around the home and garden – apart from the industrial requirements, of course.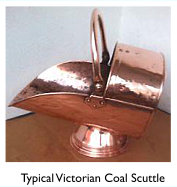 Their durability, malleability and practicality have seen our hearths and kitchens gleam with the low-light lustre of grates, pans, tools, jugs, boxes, candlesticks, lanterns, trays, scuttles and caddies, arts and crafts from clocks to pin trays . . . so many uses and such beautiful metals.
But, of course, there is a price to pay : you have to clean and polish them to keep them glowing. I well remember the metal-cleaning sessions of childhood – black hands and aching biceps! Mind you; I was seven at the time.
These days, it seems, if we can't put it into the dishwasher or the microwave, we don't want to know about it.
The shame of it is that as a result we have turned our backs on a host of home-warming items of use and beauty. But with a little work, the reward of seeing the low-lights gleaming on our walls and shelves is quite some recompense.
Can I suggest a non-proprietary method of cleaning copper and brass? Not in the dish washer, I'm afraid, but this is really quite easy.
Build up a quantity of blended or mashed-up ends and rinds of lemons (use the good slices for the drink to sustain you in your task). You can accumulate a tubful in the freezer.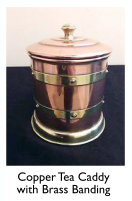 When ready for a cleaning session, sit down with a bowl, your tub of (defrosted) lemon, a pack of table salt, rubber gloves, cloths and the items for cleaning.
Over the bowl, rub with small handfuls of lemon thoroughly working it in with a cloth. Then pour on some salt and work in thoroughly with the lemon.
Set aside for a while then rinse and polish with a soft cloth. You'll be amazed at the difference!
And the beauty of it is that you can do this in front of your favourite soap or radio programme. With a gin and tonic to help you accumulate your next batch of lemon, of course!