AUCTIONEER & ANTIQUES ENTHUSIAST HILARY BOLT on CHRISTMAS RECIPES
Over the last 20 years I've been lucky enough to turn a life-long interest in "old things" into my current day jobs – auctioneering in Emsworth Auctions and running an antiques & collectables shop, Emsworth Antiques Etc. in the town's West Street.
The year is galloping along as usual, and with Christmas just round the corner, many of us are beginning to plan our traditional – and not-so-traditional – menus for ourselves and for festive entertaining. Which brings many of us to an abrupt standstill. Do we stick with the usual fare, or look for inspiration? And where to look?
I admit that there are plenty of recipes to be found online, but I love trawling through old recipe books myself – a bit like reading a map and being enchanted by the names of unvisited villages and nearby towns.
We've all heard of Mrs Beaton, but have you actually looked through one of her books? The Christmas illustrations are enough to scare you until Easter. But you can fairly easily adapt many of the old recipes for today's dining – even if the quantities have to be quartered.
An early copy of Mrs Beeton's Book of Household Management will cost you anything from £15 to £1,000.
That said, there are a great many other sources of sauces (ahem!). How about:
'Fish and How to Cook It' by Mrs Peel published 1908 will cost c£10. 'How to Cook in Casserole Dishes' from 1912 might cost you c£8. Mrs Martineau's 'Cantaloupe to Cabbage; How To Cook and Serve Vegetables', published in 1929 costs c£15. 'Cooking Without a Cook. Selected Recipes from 'Homes and Gardens' Providing Sbaimple Appetising & Economical Dishes for Every Season of the Year'. Published 1926, costs about £10.
And then, of course, from the aptly named Robert Cook (under Mr. Lamb), we have 'Court Cookery: or, The Complete English Cook' which could set you back a cool £2,500. And that's for a second edition!
One of my favourite recipe books is by the wonderful Robin Howe who travelled the Middle East 60 or more years ago, gathering authentic recipes which are mouth-watering to read and delicious to eat. My favourite is a dish called Imam Bayildi, which translates as "the Holy Man fainted', apparently because it tasted overwhelmingly wonderful.
I offer it here (not that I would want to stop you getting your own copy of 'Greek Cooking' by Robin Howe), because it is the perfect antidote to an over-indulgent Christmas. It is vegetarian and can be eaten hot or cold.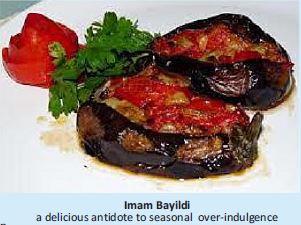 IMAM BAYILDI (To serve 6)
(The Holy Man Swooned with Delight)
6 Aubergines (long rather than fat if poss.)
3 Large Peeled and Chopped Tomatoes
Salt
A Couple of Handfuls of Well Chopped Parsley
Generous Qty Olive Oil
Juice of 1 Lemon
Crushed Garlic Cloves to taste
2 Sliced,Tomatoes & 3 Chopped Onions
Slit deeply down the length of aubergines leaving 1cm at each end. Ensure the slit doesn't go through the skin.
Rub salt into the slits and leave for 45mins-1 hour, then squeeze the aubergines until juice stops running out & wipe inside the slit with kitchen towel to remove the last of the salt
Heat c1/2cm olive oil in a pan and add the aubergines, turning them every so often so the surface softens.
Lay the aubergines to one side and fry the garlic and chopped onions until golden and soft
Mix the onions in a bowl with the chopped tomatoes, parsley and lemon juice, and stuff the aubergines with this mix, pressing it well into the slits (add salt and pepper if you wish)
Put the aubergines in a baking dish, stuffed slits uppermost and lay on a couple of tomato slices. Cover and cook at a medium heat until they are quite soft – about 45mins.
Serve either hot with rice or sautéed potatoes or quite cold as a salad or sliced up as a mezze. A versatile dish to which you can add meat or cheese, garnish with Mediterranean herbs, etc.