AUCTIONEER & ANTIQUES ENTHUSIAST HILARY BOLT on FOOD & DRINK ANTIQUES/COLLECTABLES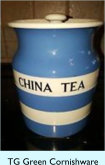 Over the last 20 years I've been lucky enough to turn a life-long interest in "old things" into my current day jobs – auctioneering in Emsworth Auctions and running an antiques & collectables shop, Emsworth Antiques Etc. in the town's West Street.
About 15 – 20 years ago, the big rage in collecting was 'kitchenalia'. This relates to collecting cooking equipment and other items found in kitchens – ranging from Edwardian egg baskets to balloon whisks, butter moulds and breadboards.
Items like these became popular because they were made from natural materials and had a 'country' feel to them; they were also attractive to display but practical, useful and useable. They took the modern house and cook back to the years before at least one great war and often back to the turn of the last century itself.
The popularity was such that competition was stiff, prices rose because of the demand, and many enthusiasts were paying a great deal of money to build collections of their favourite artefacts. Rare examples of TG Green's Cornishware jars could fetch over a thousand pounds. If you bought one of their "china tea" storage jars you probably had no money left to buy china tea. Recently, a 'self-raising flour' jar sold at just under £1,100.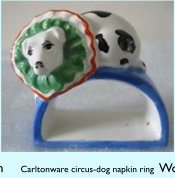 Whilst the craze for those robust, naive 'country' and farmhouse pieces has reduced, it means that prices have become more affordable for many of us : a nice plain old bread board (for those who still cut their own bread) can cost as little as £10.
If you go for more refined kitchenalia, a Royal Worcester egg coddler will probably be less than £10, and a 1930s Carltonware circus-dog napkin ring will be about £30. A more rarified hallmarked Edwardian silver toast-rack will be anything from £45 - £200+, and silver plate is a good-looking alternative to the high-end pieces, where a champagne tap may cost as little as £12, leaving a bit in the pocket for the bottle of fizz itself.
For the truly practical there are old and older recipe books from 50p leaflets to £60 plus for a Larousse Gastronomique, and much more.
In a few weeks' time we will be celebrating the "British Food Fortnight" – focussing on and enjoying everything good about the food we produce, what we do with it before it goes to table, and how we treat it once it's there. There will be plenty to see and sample, and at Emsworth Antiques Etc we will be showcasing the fascinating and functional, from silver sauciers to antique bottle openers. Why not drop by to have a look?
Bon Appetite, my friends.