AUCTIONEER & ANTIQUES ENTHUSIAST HILARY BOLT on FURNISHING YOUR GARDEN
Over the last 20 years I've been lucky enough to turn a life-long interest in "old things" into my current day jobs – auctioneering in Emsworth Auctions and running an antiques & collectables shop, Emsworth Antiques Etc. in the town's West Street.
Gardens are very much the focus of family life and activity over the next few months. Shrubs are settled in their shrubberies, bedding plant in their beds and pots tended daily to encourage their inhabitants to flourish.
Whilst you can easily fill a trolley at the local garden centre, it can be more rewarding to look around for older items which will add that already-weathered element to your garden.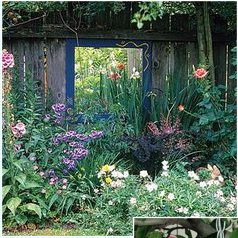 For instance, old mirrors can help increase the apparent size of a small garden, or draw in light to a shady walled area. Wood preservers can extend the life of items not normally intended for garden use. Why not install an old chest of drawers or cupboard where a work surface and storage is useful within the garden?
Old wire planters have been popular through the years, and the already used ones which have a bit of rust or previous paint showing through can enhance your shabby-chic look by being authentic.
Chandeliers don't have to be huge, and can be a beautiful addition to a garden setting, in a tree or arbour. After dark they can be lit with small candles (always consider safety) and the right ones will act as gentle wind chimes as well. Or adapt the candle-cups for planting. You can pick up incomplete chandeliers quite inexpensively from all sorts of shops and auctions.
Antique planters and garden figures can be expensive items to invest in, but vintage pieces can be 'aged' quite simply. When you've finished your pot of yoghurt, swill a bit of water round and throw the result over the item you want to age. Over the course of some weeks, the item will acquire a patinated appearance from the natural algae etc. that will colonise them.
And don't forget that there are many options to the standard planters available on the high street. It's worth shopping around and rummaging in auctions and second-hand shops to get something out of the ordinary.
Old kitchen tables can be protected as well here as in the med, and a solid surface is more comfortable than slats. A few geraniums in an old olive oil tin or petrol can, a string of outdoor fairy-lights on the trellis, a glass of something rough and ready in your hand, and you can feel yourself back in that magical taverna all over again!
We're all hoping for a good summer, so why not continue to furnish your garden? It's not just about the plants - it's the whole experience that's such fun!