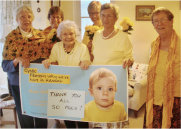 Cystic Fibrosis is a rare, orphan condition, affecting only one child in about 1 in 2,500, and as such isn't well known or understood. But this year, our little local branch has had amazing support. We'd like to say an enormous thank you to all who took part in so many different ways.
In particular, thank you to all who wore, or thought yellow at the end of our awareness raising CF Week at the end of June. Angel Radio started the Friday well, by devoting an hour of Breakfast Bustle to interviews and music. The Spinnaker Tower was lit yellow for the night for the third year running, and was joined by Portsmouth Cathedral. On Hayling, Clare Gosling ran an energetic Zumba Gold class, Edwin the yellow engine came out of his shed and chugged up and down Hayling seafront, and the sailing club at Sandy Point held a fun night, organised by Sue Bannister and her team of friends.
In the Waterlooville area, parents organised another fun evening event, having gathered lovely raffle prizes from many businesses, and a school joined in the fun by having a yellow day. In the Tichfield & Hill Head areas, two different dance groups joined in. Young local mothers appeared on TV. We've started putting our thank yous on www.facebook.com/CFPortsmouth - there are a lot. Wear Yellow Day has certainly grown, since 7 of us wore yellow last year. The reason may be that thanks to a Pfizer Havant Community Grant, we were able to produce 17 local banners, showing a yellow Spinnaker tower, or Mikey, a little local boy. Our thanks to Pfizer, to Mikey, and his parents. Wear Yellow Day was about awareness, first and foremost, but several thousand pounds were donated from these and later various events. Information about CF and the Trust's work can be found at www.cysticfibrosis.org.uk.