There was a time when all beers were dark in colour which was due to the fact that barley became smoked during the malting process. As brewing became more industrialised there was a trend to produce brighter sparkling ales. Up until the 1970's Mild which was a dark brown beer was very popular but it was side-lined as more people started to drink lager. Darker beers have a very full, malty flavour and tend to be stronger than bitter. There is no precise definition of a dark beer but the style encompasses beers which could be described as Brown Ales, Old Ales, Strong Ales and Winter Warmers. Generally speaking, we are talking about dark coloured, malt forward, stronger beers, many of which were traditionally brewed in the winter months. I have been going around our local off-licences seeking out interesting bottled versions of these fine beers.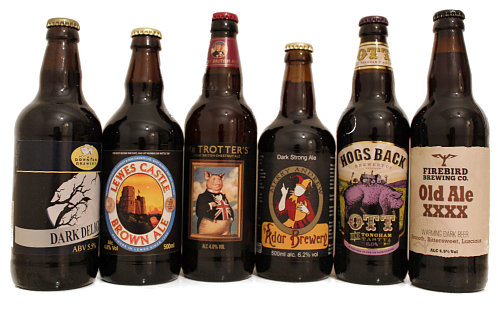 Downton Dark Delight Strong Dark Ale 5.5% abv
This is not what they drink at Downton Abbey although I am sure it would have gone down well in the servants' hall. Downton Brewery is based in the village of Downton, some 6 miles south of Salisbury. They started brewing in 2003 and have a 20 barrel plant from which over 100 outlets are supplied. Dark Delight pours a dark brown colour with a woody aroma. The flavours are complex with coffee and chocolate coming forward but with hops and yeast in the background. Downton use no less than five different hops in this brew which is also available from the cask at selected pubs. The bottle I sampled was bottle conditioned. This is a very pleasant full flavoured beer to drink with a robust meal such as roast venison or roast beef.
Firebird Old Ale XXXX 4.5% abv
Firebird began brewing in 2013 in the West Sussex village of Rudgwick , which is near Horsham. They offer no less than 6 cask ales and 8 bottled beers. Old Ale XXXX is a very dark brown brew with a bready aroma. The taste is of rich smooth coffee and milk chocolate. It is a malty beer but without any burnt taste. What impressed me most about this beer was its smoothness. Although it is not particularly strong I think it is best enjoyed by being sipped slowly with a roast dinner.
Mr Trotter's Chestnut Ale 4.0% abv
Mr Trotter are a West Midlands firm set up by Tom Parker Bowles, who supply pubs with snacks such as pork scratchings. They have diversified into contract brewing and this beer is brewed for them by Lancaster Brewery. It is currently the only beer in Britain that is brewed with added chestnuts. The beer is a copper brown in colour with a bready, chestnut aroma. The overall flavour a smooth, hoppy, sourdough taste with only a hint of chestnut. A beer that would go with most meals.
Harvey's Lewes Castle Brown Ale 4.8% abv
Harvey's have been brewing continuously in the East Sussex town of Lewes since 1790. They own 48 pubs and supply over 500 free houses across the south. Harvey's Brown is a traditional brown ale which won "Best Brown Ale" at the World Beer Awards in 2015. The beer pours dark brown and has a toffee aroma. The taste is distinctly caramel with a lovely smooth body. It may be a little sweet for some peoples taste but is a fine example of a once popular beer style. A beer to enjoy by sipping slowly, perhaps towards the end of the day.as a nightcap.
Adur Brewery Merry Andrew Dark Strong Ale 6.2% abv
Adur started brewing at Steyning, West Sussex in 2008 with a 5.5 barrel plant. They produce a wide range of cask ales and bottle conditioned beers. Merry Andrew is named after Dr Andrew Boorde who was Henry VIII's doctor. It is a very dark ale with a liquorice aroma. This beer has a very full, strong taste of chocolate and malt. It is quite sweet and has a very big flavour. This is a strong beer which would go well with oxtail casserole or other similar beefy dishes.
Hogsback Old Tongham Tasty OTT 6.0% abv
This Surrey brewery opened in 1992. They have recently started growing their own hops on a neighbouring farm. This beer is styled as an Old Ale and is made with Pale, Crystal, Chocolate and Wheat mal to which Fuggles hops are added. It is a dark brown beer with a toffee aroma. It has a very full strong flavour. I felt this was a bit like some of the American extreme beers which are inspired by traditional English ales but are much stronger and more flavoursome. This beer would go well with a barbecue.
By:
David Harris, Member of the British Guild of Beer Writers