Pupils from Hayling College, the Mayor of Havant and local police officers were among those who came out in force to celebrate a £25,000 donation from The Southern Co-operative towards the rejuvenation Hayling Island's Mengham Park.
The money was raised for Play Parks for Hayling as part of a community support scheme by The Southern Co-operative store on Elm Grove, Hayling Island. The money contributed to the £80,000 raised by Play Parks for Hayling to renovate the island's Mengham Park.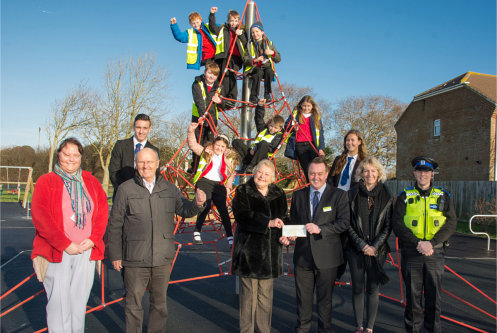 Pete Raynor, Retail Business Manager for The Southern Co-operative's Hayling Island store said: "Our colleagues and customers have been really passionate about helping to raise this money for Mengham Park. It is absolutely fantastic to see all the hard work pay off and for the children in our community to benefit from the new and improved play park."
Mengham Park now features a wheelchair accessible round-a-bout, a bucket swing, multiple climbing frames and more. The park was officially reopened by Havant Mayor, Leah Turner in August 2015 after 18 months of fundraising activity within the area.
The donation follows The Southern Co-operative store's launch of a new community engagement programme, 'Love Your Neighbourhood', an innovative new community pilot aimed at bringing together the Hayling Island community to help make a positive difference to the local area.
Pete continued: "We would love for as many Hayling Island community groups, charities, and not-for-profit organisations as possible to come and visit us in store and find out how we can help get involved and 'Love Your Neighbourhood'. We are passionate about getting more involved with our Hayling Island community and can't wait to start making a difference!"
To find out how you can get involved with The Southern Co-operative's Love Your Neighbourhood scheme, please speak to colleagues in your local participating store, or visit the Love Your Neighbourhood website for more information: http://www.thesouthernco-operative.co.uk/makingadifference/love-your-nei...