People in Emsworth and Westbourne are planning to double the size of their new community orchard.
Eight more apple trees, sponsored by local residents, were planted at the Hampshire Farm Meadows site, off Westbourne Road, Emsworth on 3 December.
The orchard, set up by environmental group Greening Westbourne, already has 16 trees. Another eight will be planted in February, bringing the total to 32.
A dozen residents from Emsworth and Westbourne have sponsored trees to be planted on the site, which is on new public open space next to the Redlands Grange housing development, near the county border between the two communities.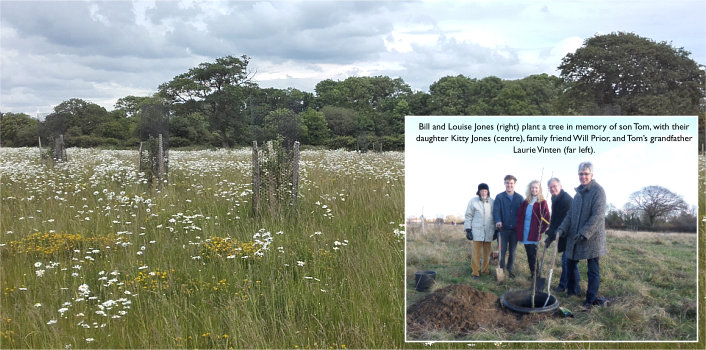 Sponsors can buy a tree in memory of a family member, or to mark a special occasion, and can also purchase a dedication plate. They can also give a tree as a gift – for example at Christmas.
The goal is to have around 60 fruit trees on the site, with benches nearby and eventually a regular harvest of apples, pears, plums and apricots.
Colin Carré, chair of Greening Westbourne, said: "We launched the sponsorship scheme in the summer and it's been very successful. It's great to see the orchard get bigger and bigger. "Some local families have sponsored trees for very personal and poignant reasons, such as remembering a loved one they have lost.
"A tree would also make a great Christmas present – a gift that enhances the environment and will be there for years and years.
"The idea of the orchard is to help preserve traditional fruit varieties and help local people, especially children, get a bit closer to the earth. Growing food locally reminds us that it doesn't always have to be flown thousands of miles across the world."
A group of volunteers recruited by Greening Westbourne have been working to get the orchard established. Along with local people, Westbourne's Beavers, Cubs and Scouts have been helping to plant trees. Local tree surgeon Mike Reed has also lent his expertise.
Havant Borough Council and the Tree Council are major supporters of the project. The 3 December planting session will be during National Tree Week, organised by the Tree Council.
It costs £50 to sponsor or adopt a tree, and dedication plates are £30. All money will go into orchard funds, used to buy new trees and maintain the area. To apply, residents can search "Greening Westbourne" online and go to the "news" section of the site.