A Christmas Day for everyone - by Barney Barron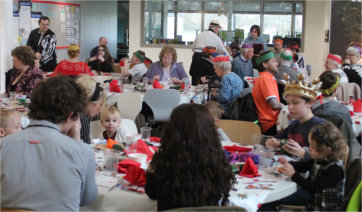 A wide-ranging and diverse group of 80 people gathered for a truly magical community Christmas Day at Park Community School. From babes in arms to the elderly, professionals and the homeless, all came together in an act of true community and shared a special day of entertainment, companionship and a veritable Christmas feast.
There was laser quest and inflatables for those with plenty of energy, films and newspapers for those who preferred a quieter time. All came together for a meal and there was plenty of good conversation and camaraderie.
A highlight was a surprise visit from Santa Claus, just before he returned to the North Pole for a well-earned rest. Santa brought with him gifts for everyone, both young and old.
Christmas day is not a happy day for everyone for all sorts of reasons, and can often highlight feelings of loneliness, isolation or economic hardship. It was with this in mind that the Christmas Day lunch was held with an open invitation. There were plenty of smiles and even a few belly laughs from many who might have otherwise found the day a struggle.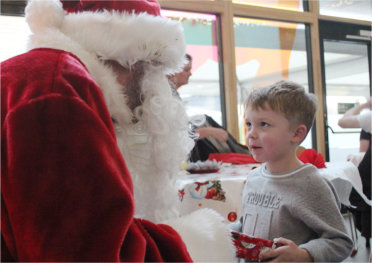 The event was organised by Sara and Barney Barron in partnership with Park Community School. Barney and Sara are community ministers in the PO9 area. Their role is part of an initiative by Portsmouth Anglican Diocese to serve local communities. They connect with those who find it difficult to engage with traditional models of the Church.
The day was made possible with generous funding from the Big Lottery Fund. A huge thank you to Waitrose in Havant for donating high quality food through their Community Matters Scheme, and Postcode Publications for funding gifts for everyone so that no one went without a present to open on Christmas Day.
There was also overwhelming support from the staff at Park Community School. Susan Parish (Business and Community Manager) helped fundraise and organise, and Steve Cross (Chef) and his team helped with food.
Members of the teaching staff, support staff, governors and students, alongside other members of the local community, helped on the day with cooking, serving, giving lifts and offering a warm welcome to all.
Fundraising for a special Community


July 2017 will see a group of students from Park Community School, visit and work in one of the poorest communities in the world for the second time. The link with Tanzania has come about through a partnership with the Grassroots charity. Grassroots run a child sponsorship programme for over 3,000 children. This vital sponsorship enables them to go to school, get free medical care and a nutritious weekly meal.
Each person going, including staff, are paying a proportion of the cost of the visit and fundraising for the rest. Through hard work and determination the students have raised over £8,000. This has been achieved through activities such as bag packing, carwashes and cake sales. Students created little elf door decorations for Christmas, these were sold to raise more money also.
We need to raise another £7,000 to reach our target. Any support in running fundraising events or donations would be gratefully received, we are determined to achieve our goal and realise this amazing opportunity for our students.
Hair-raising act by generous Park students
Park students Jasmine Bone and Robbyn Miller are preparing to donate their hair in a generous act to raise money for the Little Princess Trust. To support the students and find out more visit www.justgiving.com/ Leanne-Cooper13 and www.justgiving.com/fundraising/Robbyn-Miller