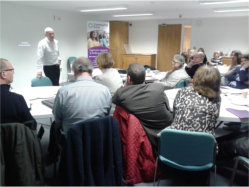 Charities and community groups from across our areas attended a lively presentation evening this week delivered by Ben Kench from The Business Booster. Discussion focussed around how community groups could become more business like and attract potential new funders.
The evening was organised by Community First, a charity that works with the community and voluntary sector across East Hampshire, Havant and Winchester. Janet Duggan, Business & Community Project Lead from Community First says "we were very excited to be hosting this exciting new presentation evening for community groups as part of our Employee Volunteering Skill Share Scheme. The presentation given by Ben has given me the courage to rethink our marketing strategy and look at new ways of engaging with businesses".
If you would like to find out more about Community First's Employee Volunteering Scheme or the range of training courses Community First provides through its Learning and Development Team, contact Janet Duggan at janet.duggan@cfheh.org.uk or telephone 0300 500 8085 ext 9722.