Holborow Lodge, Chalder Lane, Sidlesham, Chichester PO20 7RJ

Life at Cat & Rabbit Rescue Centre gets busier for us felines, not sure what the rabbits and guinea pigs do except for a bit of gardening! The main news this month is that Monique & Nigel who set up Cat & Rabbit in 1986 are retiring. So the Trustees have lots to do to ensure all us puss-cats, rabs and guineas are looked after properly.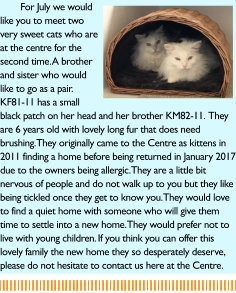 We have lovely new lady Lilly who is organizing the fund raising and the volunteers to make sure we have lots of money coming in to keep us in the manner to which we are accustomed!!
Lilly with help from Pamela is very busy organizing the Summer Fayre on Sunday 13th August 11-4pm. This is our biggest fund raising event, and we need lots of things in particular bottles for the bottle stall which makes oodles of money, wine is very popular, but any bottles as long as it is in date. If you would like to donate some, please drop it off at our shops (details on www.crrc.co.uk).
They say the countryside is quiet, but the trees full of crows are very noisy making their nests and feeding their young. Their nests are luxurious as they are lined with white fur from Holly & Daisy the 2 rescued ponies.
Must go now as lots of things to do, and need to catch up on my sleep, unbelievably we had a fox come into our garden room the other night, but Lewis, my tabby & white mate chased it away!
The fashion show I told you about last time has been postponed until later in the year. This gives me a chance to practice my cat walk. We will send out the revised date as soon as we can.
I would like to add a huge thanks to Monique and Nigel without them my friends and I would have had nowhere to go. We will miss them.
If you are interested in adopting a cat, kitten, rabbit or guinea pig then please call us here at the centre on 01243 641409 between 9-4pm during the week.
PS: We have a Viewing Day Saturday 22th July 12-2pm. Viewing days are non-appointment days so people thinking of adopting a cat can pop along. Otherwise we rehome 7 days a week by appointment only.